Norfolk & Western Class J Locomotives
During the golden era of steam, some railroad companies built locomotives in their own shops to meet the needs of the company. One of the most famous examples of this is with Norfolk and Western Railway and their Class J steam locomotive design. The Norfolk and Western Class J is considered part of the Norfolk and Western's "Big Three" along with the Y and A classes of locomotives. Let's take a deeper look at this impressive locomotive design.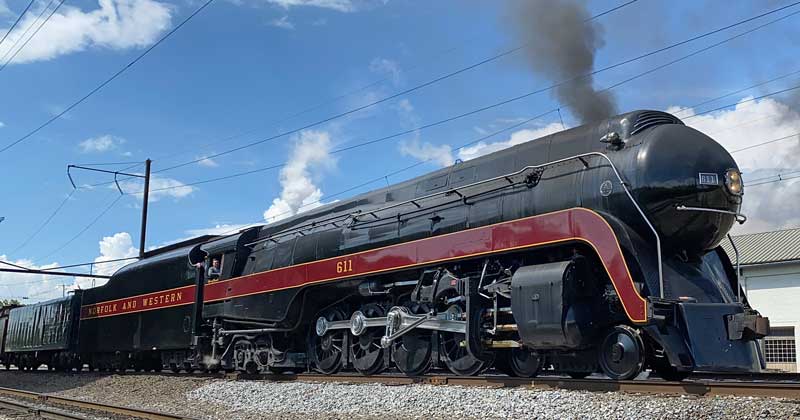 Design and Construction
In total, Norfolk & Western built 14 Class J locomotives. These locomotives featured a 4-8-4 wheel design, commonly referred to as "Northern" type. Construction of the first set of Class J locomotives took place between late 1941 and early 1942. There were five engines, numbered #600-604, constructed during this time. Each one featured crossheads with multiple bearings and spoke pilot wheels. In 1950, they added solid steel pilot wheels.
In 1943, six more engines in the class were constructed. These trains were their #605-610 trains. These trains featured alligator crossheads and spoke pilot wheels and no streamlining shrouds. Similar to the first batch, they received solid steel pilot wheels in 1950.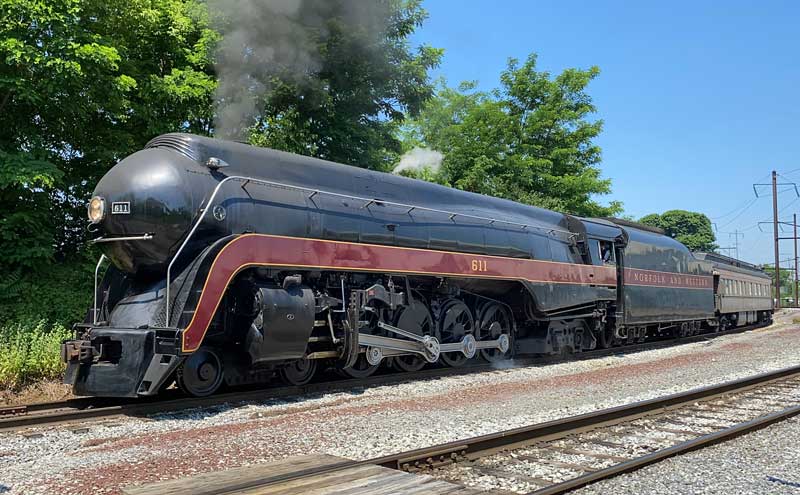 J Class production paused during WW2, in 1943. The last three locomotives in the class were built in 1950, they were numbers 611-613 and had the same design as the six built-in 1943, but the solid steel pilot wheels.
The Class J was known for its speed. One Class J locomotive hit 110 miles per hour while pulling a passenger train weighing more than 1000 tons!
Miss seeing N&W Class J locomotives steam up? Railfan Depot's DVD selection includes several on Norfolk & Western, including one on the N&W Class J.
Class J Locomotive Specs
While the construction occurred over a decade with slightly different designs, they all have the same specs:
Wheel configuration: 4-8-4
Leading wheel: 36 in
Driving wheel: 70 in
Trailing wheel: 42 in
Height: 16 ft
Width: 11.2 ft
Length: 109.2 ft
Axle load: 72,000 lbs
Weight: 494,000 lbs
Fuel type: Coal (later diesel in the late 1950s)
Fuel consumption: 6.5 t of coal per hour
Fuel capacity: 70,000 lbs
Maximum speed: 110 mph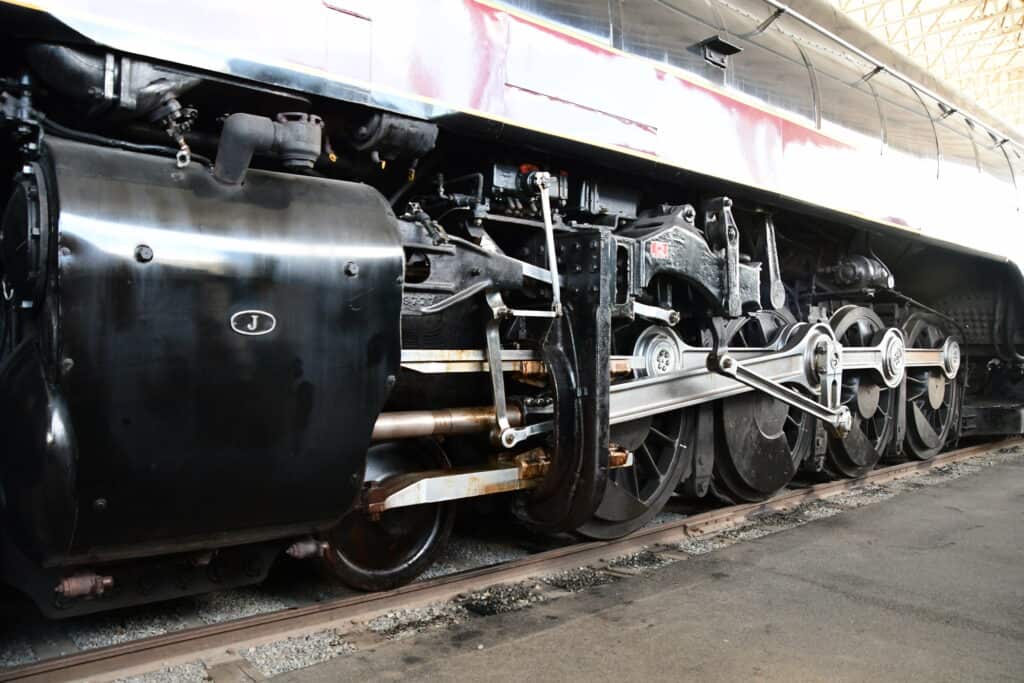 Retirement
The Class J locomotives didn't have a long run at the head of N&W's passenger trains. After the final three were built they served passengers for some time before moving on to hauling freight. Class J locomotives were officially retired between 1958 and 1959 before most were sent off to be scrapped.
The only Class J locomotive that N&W didn't send to the scrapyard was N&W #611, which was donated to the Roanoke Transportation Museum in 1962. After a celebrated run heading up N&W passenger excursions in the 1980s and 1990s, N&W successor Norfolk Southern shut down the excursion program and 611 was retired again.
But, N&W 611 has a lot of fans. Fans and backers who decided she wasn't done yet. In 2015, Norfolk Southern lead a restoration that once again put her, briefly, at the head of a public steam excursion program. For a couple of years #611 headed up some amazing steam excursions. Norfolk Southern ran their 21st Century Steam program from 2011 to 2015.
While it all ended too soon with the 21st Century Steam program, 611 is still running, and still at the head of the occasional steam excursion with two visits since 2019 to the Strasburg Rail Road. N&W 611's home isat the Virginia Museum of Transportation but is currently undergoing regular maintenance at Strasburg Rail Road.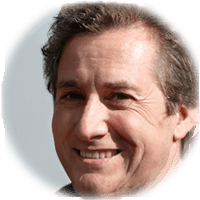 A longtime railfan, Bob enjoys the research that goes into his articles. He is knowledgeable on many railroad topics and enjoys learning about new topics. You can get a hold of Bob at his email link below.