N&W #1218, Powerful, Fast, and a Lone Survivor
Even near the end of the steam era and push towards dieselization, railroad companies and locomotive manufacturers sought to improve on existing technology. One example of this development is on display in Norfolk & Western #1218. Though she did not have the longest revenue career, N&W #1218 quickly made a name for herself thanks to her power and speed. Let's take a closer look at this incredible piece of steam history.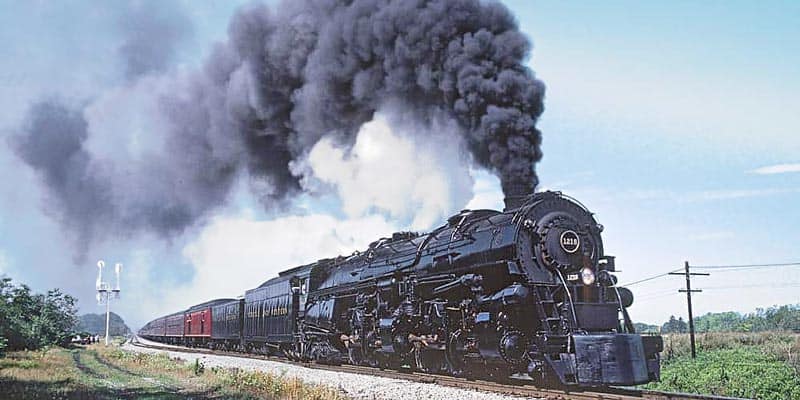 Brief History of N&W #1218
N&W #1218 is a simple articulated steam locomotive that is classified as 2-6-6-4 per the Whyte Notation, meaning the locomotive has two driving wheels, two sets of driving wheels that each have six wheels, with four trailing wheels. The locomotive was built in 1943 by the Norfolk & Western at their East End Shops in Roanoke and was one of 43 Class-A locomotives built by the railroad company.
The locomotive would operate on the N&W for nearly two decades as it led both passenger and freight trains that were too heavy for other locomotives. The locomotive produced 5400 horsepower and 138,240 lbf of tractive output, putting her up there with some of the most powerful locomotives ever made. During her early years, N&W #1218 ran primarily on the railway's Scioto division, which ran from Williamson, West Virginia to Columbus, Ohio. During her later years on the railway, the locomotive primarily stayed in state, running between Norfolk and Roanoke, Virginia. She saw her revenue service come to an end in 1959 and was sold by the railroad company.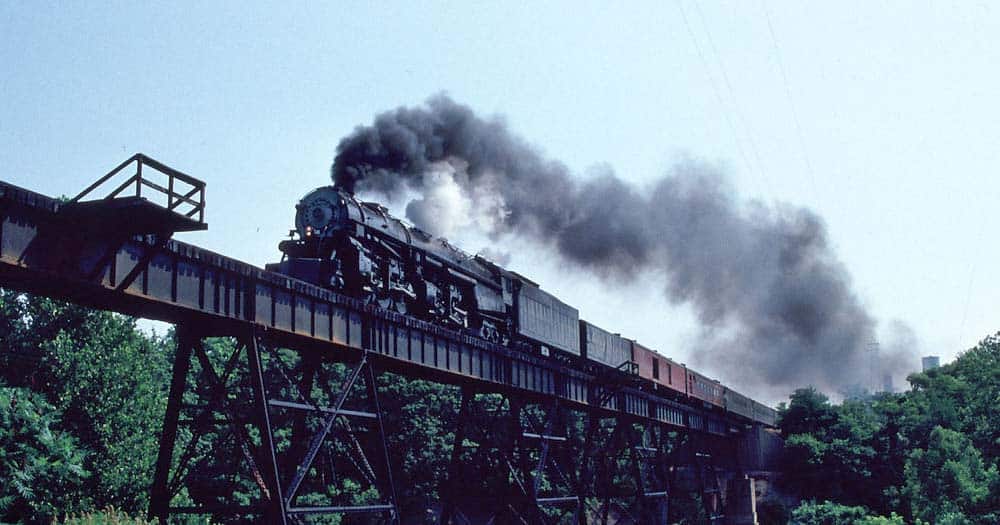 After a short career working as a stationary boiler for a Union Carbide Chemical plant, N&W #1218 was purchased by F. Nelson Blount, a businessman and railfan, in 1965. Blount, who owned the Edaville Railroad in Massachusetts, planned to add her to the roster of his "Steamtown, USA" museum in Pennsylvania. Unfortunately, Blount passed away in 1967, which devastated the Steamtown project for the foreseeable future.
Following Blount's death, the Norfolk & Virginia was able to reacquire the Class-A locomotive. The locomotive was transported to the East End Shops, the locomotive's birthplace, so that she could be cosmetically restored. The locomotive was transported to the Roanoke Transportation Museum, where she remained on static display from 1971-1985. It was during this period, in 1982, that the N&W merged with Southern Railways to create Norfolk Southern (NS). Over the next couple of years, the NS Steam Program, a holdover program the Southern Railways, proved to be continuously successful; though it became clear that there was a need to incorporate stronger steam locomotives into the program.
Railfan Depot currently has several DVD programs featuring the Norfolk and Western, including one specifically about N&W #1218 from Pentrex.
In 1985, the locomotive was removed from her display and transported to a facility in Alabama so that she could undergo restoration to her operational form. The restoration took nearly two years; but by January 1987, #1218 was powering herself, something she hadn't done in nearly three decades, and was added to the NS Steam roster.
N&W #1218 was an instant hit for the excursion program. In addition to operating on the NS, #1218 traveled throughout the US to participate in various conventions and special events. Unfortunately, the locomotive unknowingly ran her last excursion in 1991. At the end of the 1991 season, the locomotive was sent to Alabama for an overhaul and repairs that were expected to keep the locomotive sidelined until early 1996. The NS discontinued the Steam Program in 1994; so with no plans for operation, #1218 was partially reassembled and returned to Virginia where she sat for more than 15 years.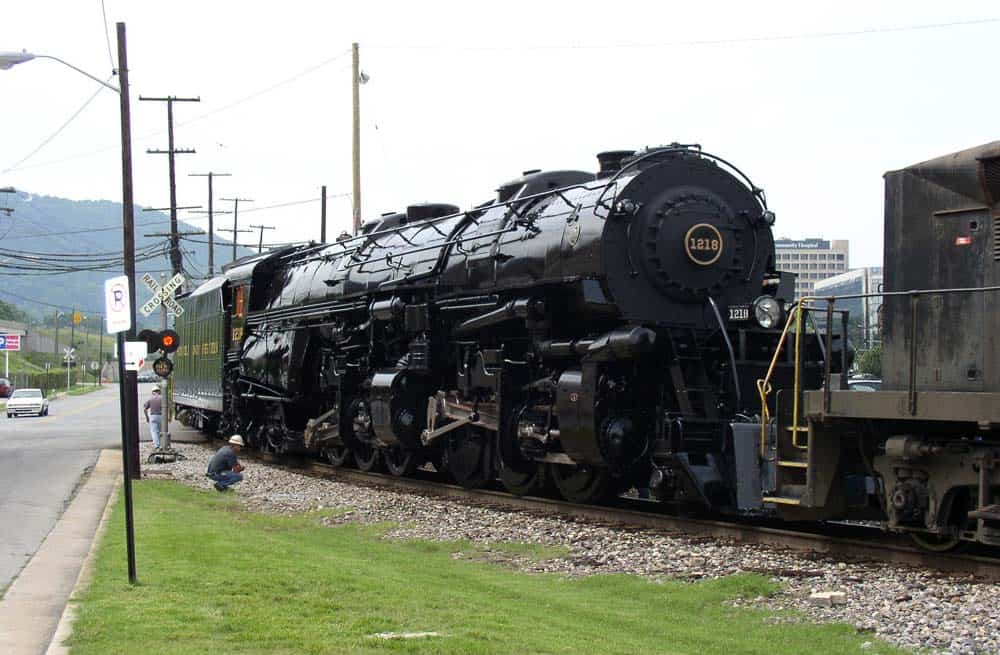 Current Status
Following a cosmetic restoration, N&W #1218 was donated to the City of Roanoke and the locomotive was put on static display at the Virginia Museum of Transportation in 2003. The museum positioned #1218 next to another popular Norfolk & Western locomotive, N&W #611, though the latter has since returned to operation.
N&W #1218 remains on static display at the museum; and unfortunately, that is likely the best that railfans will get for the time being as there are no current plans to restore N&W #1218 to operational status.
Be sure to visit Virginia Museum of Transportation website to learn more about their collection, get visitor information, and more!