The Largest Steam Locomotives
If the question is "What's the largest steam locomotive ever built?", most people will say it's the Union Pacific's "Big Boy". In fact they are correct, sort of, but not in every category. A few prototypes were larger, but were unsuccessful and either not built or quickly pulled from service.
At this point I can hear steam aficionados saying, "Hey, what about the C&O's Allegheny locomotive?".
So, the Big Boy wins for its sheer size, but surprisingly enough is often surpassed in other categories. The Big Boy had plenty of company when it came to being a steam giant. Perhaps the Big Boy comes to mind so easily because of the fame brought by Union Pacific's own marketing department and of course the recent multi-million dollar restoration and subsequent Midwest and Western tours of Big Boy 4014.
Big is big, and when the ground literally shook when these man-made iron monsters rumbled or roared by, there was no doubt of their size, power and weight.
To clarify and classify what we call "Steam Giants", we'll divide this guide into two sections, articulated and non-articulated, more or less beginning with the largest. While others existed, these were the steam locomotive giants that were the most successful.
The Biggest Articulated Locomotive "Giants"
"Articulated" meant one or more engine units moving independently of the main frame. Articulation allows the operation of locomotives that would otherwise be too large to negotiate a railroad's curves. Relevant to big steam, Merriam-Webster's Dictionary defines articulated as: "having a hinge or pivot connection especially to allow negotiation of sharp turns an articulated lorry/bus [or] having sections connected by joints that allow each section to bend or turn independently in different directions"
Without the development of the articulated locomotive, railroads would have been forced to limit driving wheels or operate at restricted speeds. Most of the unsuccessful non-articulateds had more than 10 driving wheels. One exception was the Union Pacific's 9000-series 4-12-2's, which given long stretches of track, with minimal curvature, were able to do their intended jobs.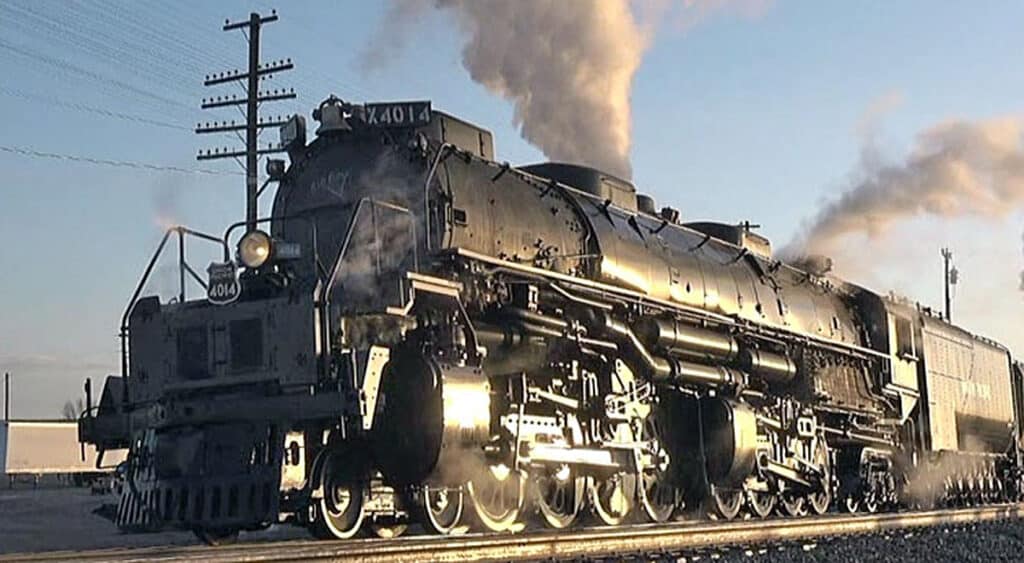 The Big Boy North America's biggest successful steam workhorses from the day they were built until the end of the steam era. Several Big Boys are preserved in static displays, with the #4014 restored in 2019 and returned to operational status.

Whyte Notation: 4-8-8-4
Length (without tender): 85′ – 10″
Weight (without tender): 386.125 tons
Pulling force (tractive effort): 135,375 Lbs
Built: 1941-1944
Builder: ALCO
Quantity built: 25
Locomotive #'s: 4000-4024
Northern Pacific Z-5 The first Yellowstone type locomotive was built in 1928 by ALCO for the Northern Pacific for service on its Yellowstone Division. This was the only Yellowstone for the NP that ALCO built. Eleven more were built by Baldwin. The Z-5's were actually two locomotives under one boiler. At the time they were built, they were the largest locomotives in the world.

Whyte Notation: 2-8-8-4
Length (without tender): 80' – 7-5/8"
Weight (without tender) 358.5 tons
Pulling force (tractive effort): 159,330 Lbs
Built: 1928-1930
Builder: ALCO/Baldwin
Quantity built: 12
Locomotive #'s: 5000 (by ALCO) / 5001-5011 (by Baldwin)
DM&IR M3/M4 Another "Yellowstone" type locomotives served on the Duluth, Missabe & Iron Range RR to haul heavy trains of iron ore from the mines of the Missabe Range to the Lake Superior ore docks. They became some of the last operating big steam locomotives, with retirement from 1958-1963.

Whyte Notation: 2-8-8-4
Length (without tender): 79' – 5"
Weight (without tender): 315.26 tons
Pulling force (tractive effort): 140,093 Lbs
Built: 1941-1943
Builder: Baldwin
Quantity built: 18 (8 M3's & 10 M4's)
Locomotive #'s: 220-237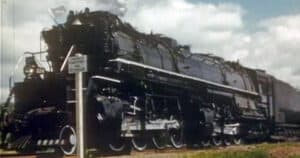 Southern Pacific AC-9 While many think of Southern Pacific's "Steam Giants" to be the unique Cab Forward model, there was another. Because the SP operated on many lines besides the snowsheds and tunnels of the Sierra Nevada's, the railroad had its own "Yellowstones". Unlike the cab forwards, these were coal burners. In 1939 the SP received 12 Yellowstones from Lima for use throughout the southern part of the SP system. The AC-9's were eventually converted to burn oil.

Whyte Notation: 2-8-8-4
Length (without tender): 79' – ½"
Weight (without tender): 338.6 tons
Pulling force (tractive effort): 123,364 Lbs
Built: 1939
Builder: Lima
Quantity built: 12
Locomotive #'s: 3800-3811
Baltimore & Ohio EM-1 With wartime restrictions, the EM-1 was not B&O's first choice for new power. In fact the railroad wanted to go with diesels. Settling for the long proven "Yellowstone" wheel arrangement EM-1's, the crews and the railroad were satisfied with the machines ability to haul heavy trains on the steep grades of the Alleghenies.

Whyte Notation: 2-8-8-4
Length (without tender): 75' – 6"
Weight (without tender): 314.35 tons
Pulling force (tractive effort): 115,056 Lbs
Built: 1944
Builder: Baldwin
Quantity built: 30
Locomotive #'s: 7600-7629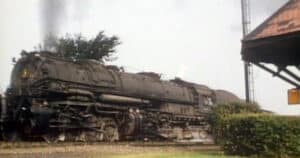 Southern Pacific Cab Forwards This unique and highly praised design placed the cab at the front of the locomotive, minus the tender. This arrangement was made possible by burning fuel oil instead of coal. It solved one of the worst fears of being asphyxiated in the many tunnels and snowsheds of the Sierra Nevada's. Because this locomotive "evolved" several times during the steam era, there were several designations, starting with the AC4 models and ending with the AC12. For simplicity, some of these numbers are not specific.

Whyte Notation: 4-8-8-2
Length (without tender): 79' – 4"
Weight (without tender): 328.95 tons
Pulling force (tractive effort): 124,300 (or less) Lbs
Built: 1937-1942
Builder: Baldwin
Quantity built: 195
Locomotive #'s: 4100 – 4294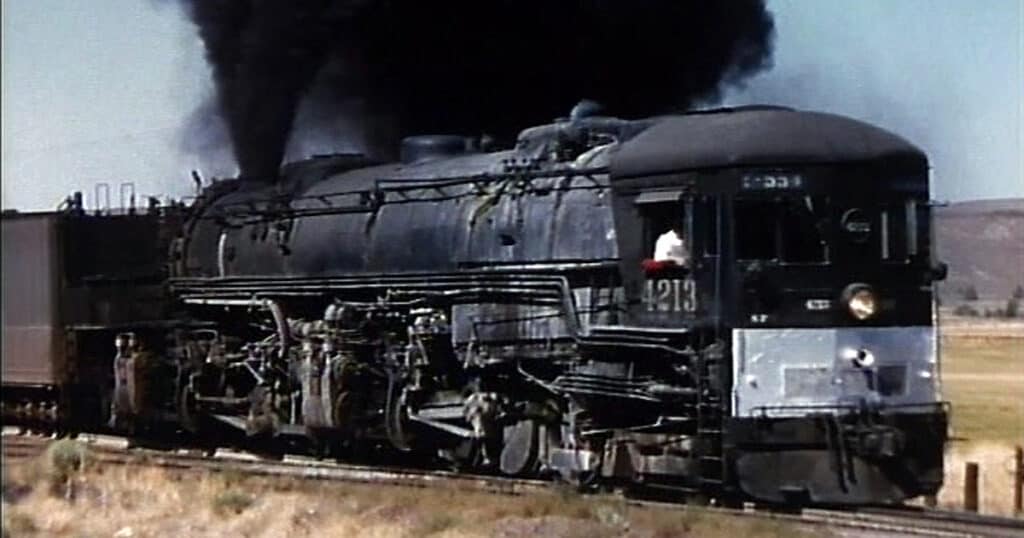 Denver and Rio Grande L131/L132 The grades of Tennessee Pass and the Moffat Route demanded powerful, not necessarily fast locomotives. These giants were at home pulling heavy freights as well as pushing them, in fact they survived into the diesel era in helper service on Tennessee Pass.

Whyte Notation: 2-8-8-2
Length (without tender):
Weight (without tender): 324.5 tons
Pulling force (tractive effort): 140,093 Lbs
Built: 1927-1930
Builder: ALCO
Quantity built: 20 (10 L-131 & 10 L-132)
Locomotive #'s: 3600 – 3619
Norfolk & Western Y-Class Some of the finest steam giants that ever shined the rails were in fact "home built". The N&W's need to haul heavy coal drags and other freight over mountain grades led them to develop and improve the designs of ALCO and Baldwin on big, articulated steam power. N&W's access to vast coal reserves made the railroad one of the last to fully dieselize. For simplicity, we'll focus on the models built in the Roanoke shops, the Y4a, Y5, Y6, Y6a & Y6b.

Whyte Notation: 2-8-8-2
Length (without tender):
Weight (without tender): 291.45 tons
Pulling force (tractive effort): 140,093 Lbs
Built: 1930-1952
Builder: Norfolk & Western (Roanoke Shops)
Quantity built: 111
Locomotive #'s: 2090 – 2200

Great Northern R-1/R-2 These locomotives were the largest on Great Northern's steam roster. Baldwin built the first (the R-1's), but the GNR made major changes and took over completely on the building of the R-2's at its Hillyard, Washington Shops.

Whyte Notation: 2-8-8-2
Length (with tender): 119 feet
Weight (without tender): 289 tons
Pulling force (tractive effort): 142,165 Lbs
Built: 1925-1929
Builder: Baldwin / GNR (Hillyard Shops)
Quantity built: 26 (10 R-1's, 16 R-2's)
Locomotive #'s: 2034 – 2059
Virginian AE Only two railroads ventured into such a large wheel arrangement, The Santa Fe and the Virginian. The Santa Fe brand performed poorly and were rebuilt back to their original 2-10-2's, but the Virginian operated them for as many as 31 years. While the locomotive's length was exceed by others, it had the largest boiler diameter of any.

Whyte Notation: 2-10-10-2
Weight (without tender): 342 tons
Pulling force (tractive effort): 135,170 Lbs
Built: 1918
Builder: Alco
Quantity built: 10
Locomotive #'s: 800-809



Chesapeake & Ohio H-8 "Allegheny" is Big Boy's closest competitor in the "largest" category and varying arguments can be made for which is the biggest. Join SteamGiants as we compare the two massive locomotives.

A deeper look at the history of the Allegheny can be found here.

Whyte Notation: 2-6-6-6
Weight (without tender): 385.65 tons
Pulling force (tractive effort): 110,211 Lbs
Built: 1941-1948
Builder: Lima
Quantity built: 60
Locomotive #'s: 1600-1659

Smaller Big Articulated Locomotives
While still "Giants" by any definition, there are many railroads that used a smaller articulated style of steam engines, primarily the "Challenger" type with 12 driving wheels divided into two groups of six. This 4-6-6-4 wheel arrangement was used by at least the following railroads…

Union Pacific: This railroad took the name "Challenger" and ran with it, leaving other railroads to simply say "Challenger type". However even the UP gave class designations to their fleet of 105 locomotives. The lighter CSA-1 (#'s 3900-3914) and CSA-2 (#'s 3915-3939), were built by ALCO in 1936-37. The heavier and more powerful 4664-3 (#'s 3950-3969), 4664-4 (#'s 3975-3999) & 44664-5 (originally #'s 3930-3949) All built by ALCO from 1942-44. The 3930/31/32/34/37/38/43 & 44 were converted to oil burners in 1952 and renumbered 3700–3707.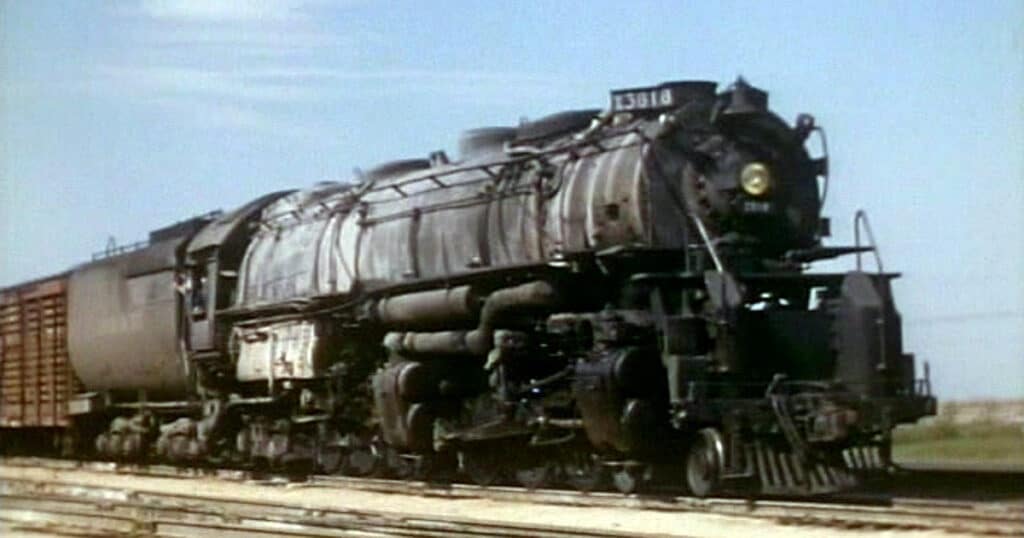 Clinchfield: Classified as the E-1 (#'s 650-657), E-2 (#'s 660-663) & E-3, (#'s 670-675), the latter being acquired from the D&RGW. These were all built by ALCO from 1942-47.
Delaware & Hudson: Referred to them as J-Class #'s 1500-1539. Built by ALCO in 1942-46.
Denver & Rio Grande Western: Classed as L-105 & L-97. There were 15 L-105's numbered 3700-3714 and built by Baldwin 1938 & 1942 and 6 L-97's numbered 3800-3805 built by ALCO in 1943.
Northern Pacific: Classed as the Z-6 (#'s 5100-5120), Z-7 (#'s 5121-5126) & Z-8 (#'s 5130-5149). These were all built by ALCO from 1936-1944.
Spokane, Portland & Seattle: Also referred to them as the Z-6 (#'s 900-905) and Z-8 (#'s 910 & 911). Built by ALCO in 1937 & 1944, respectively.
Western Maryland: Classified these as the M-2. Numbers 1201-1212 and built by Baldwin in 1940-41.
Western Pacific: Classified these as the M-100. Numbers 401-407 and built by ALCO in 1938
A slightly smaller 2-6-6-4 wheel arrangement was used by a handful of railroads, most famously, The Norfolk & Western who actually home built and modified the original Lima design.
Pittsburgh & West Virginia: Operated seven built by Lima in 1934 & 1937.

Seaboard Air Line: Operated 10 built by Lima in 1935 & 1937. When the SAL dieselized, these were sold to the Baltimore & Ohio in 1947.

Norfolk & Western: After realizing the success of the first ten Lima built versions, the N&W built 33 of these locomotives in its Roanoke Shops from 1936 to 1950 and designated them the A-Class. The later versions of these "perfect steam locomotives" were capable of pulling anything from 13,000 ton drag freights to 70 MPH passenger trains. The Class A's were numbered 1200-1242 and built from 1936 to 1950.


Dropping down another size is the 2-6-6-2 "Mallet Mogul". Perhaps no other wheel arrangement was applied to so many looks, styles and designs. In fact they did not even always appear to be "steam giants". The wheel arrangement was applied to everything from logging railroads that used tank style designs to some of the nation's biggest railroads. These were compound articulateds, meaning they had two sets of unequally sized cylinders, with the smaller pair near the cab. These cylinders were fed with high pressure steam directly from the boiler, and then the steam was passed into the pair of larger, low-pressure cylinders at the front, with the larger diameter to offset the lower pressure, before exhausting through the smokestack. These locomotives were generally slow but powerful by design.
As the locomotive size decreases, the variables increase, so let's limit this list to a few of the big companies that employed the more conventional 2-6-6-2's.
The Chesapeake & Ohio: The biggest fleet of the 2-6-6-2 "Mallet Mogul's" were operated by the C&O. They were classed as the H-1 through the H-6 over the years. Here are some numbers…
H-1 (1), H-2 (24), H-3 (25), H-4 (150), H-5 (20), H-6 (55). These were all built by various ALCO facilities between 1910 & 1920, with the exception of the last 10 H-6's, which were built by Baldwin in 1949.

The Norfolk & Western: Before the famous A & Y-class big steamers, the N&W owned and operated what it called the Z-class 2-6-6-2's. 190 Z1/Z1a/ models were built from 1912 to 1914 by ALCO & Baldwin. The N&W upgraded and tinkered with many of these over the years, giving them other "Z" designations.

Great Northern: 62, built by Burnham Williams & Co. from 1906 – 1908.

Atchison, Topeka & Santa Fe: Owned 55, built by ATSF (the first from two 2-6-2 Baldwin locomotives) & Baldwin in 1910 & 1911.

Baltimore & Ohio (B&O) / Buffalo, Rochester, & Pittsburgh: 55 were built for the BR&P by ALCO in 1914 and two were built for the B&O by Baldwin in 1930.

Other large general freight hauling railroads that owned Mallet Moguls were:

Central of Georgia: 10, built by ALCO in 1919.
Chicago Great Western: 13, built by Baldwin and the CGW in 1910.
Chicago, Burlington & Quincy: 13, built by Burnham, Williams & Co & Baldwin from 1908-1910
Denver & Rio Grande: 8, built by ALCO in 1910.
Southern Pacific (Galveston, Harrisburg & San Antonio): 24, built by Baldwin from 1910-1911.
Milwaukee Road: 36, built by ALCO from 1910-1912.
Northern Pacific: 22, built by Burnham Williams & Co, and Baldwin in 1907 & 1910
Western Maryland: 9, built by Baldwin from 1909-1910
Western Pacific: 10, built by ALCO in 1917.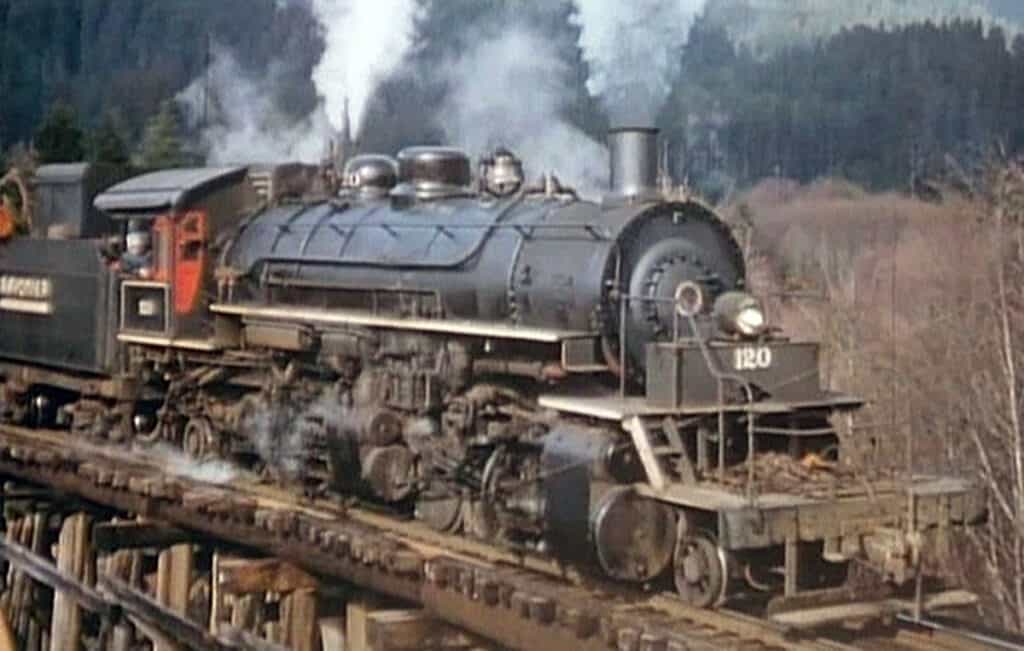 The non-Articulated "Giants"
While most of the articulated steam engines found their homes primarily with large rail companies and alongside a variety of other steam power, Non-articulated power was a much more common sight. It certainly was less expensive to build, operate and maintain, and every railroad depended on it for everything from long distance passenger and freight trains to local and yard service. However, don't under-estimate the need for power and speed, and the desire for bigger non articulated power sometimes exceeded logic in its design. Many designs that left the engineers' drawing boards and were actually completed, were failures, and ultimately for the same reasons. With a rigid wheelbase that had great difficulty negotiating curves and damaged track, it would only make sense that the size and amount of driving wheels was going to have to be limited.
The Union Pacific Railroad, with long stretches of track featuring minimal curvature operated the largest non articulated locomotives that could be considered successful in the United States. A 4-12-2 wheel arrangement was found in the 88 "Union Pacific" class of locomotive. However they were not the best friends of those who had to maintain them as there was an "inside center" third cylinder and there were difficulties accessing bearings on the cylinder drive wheel, along with main boxes overheating, and wearing of the valve gear caused by excessive build up of back pressure at full speed.
Once limitations on driving wheels were set to ten or less, the versatility & popularity increased. In fact, the most common & successful steam giants had 8 drivers and came in 4-8-4 "Northerns" , 2-8-4 "Berkshires" 4-8-2 "Mountains", and 2-8-0 "Consolidation" type locomotives. Even some locomotives with 6 driving wheels appeared to be quite large due to their boiler size. A good example would be the Hudson type that the New York Central made famous.
With some exceptions, we'll eliminate fine details on the larger non articulated locomotives and provide a comprehensive list of wheel arrangements and what they were called on various railroads.
Union Pacific's 4-12-2 "Union Pacifics" As stated previously, these locomotives were the largest non-articulated locomotives that found any degree of success on a North American Railroad.
Whyte Notation: 4-12-2
Length (with tender): 102 feet, 7 inches
Weight (without tender): 248 tons
Pulling force (tractive effort): 97,664 Lbs
Built: 1926-1930
Builder: ALCO
Quantity built: 88 (Classed UP-1 through UP-5)
Locomotive #'s: 9000 – 9087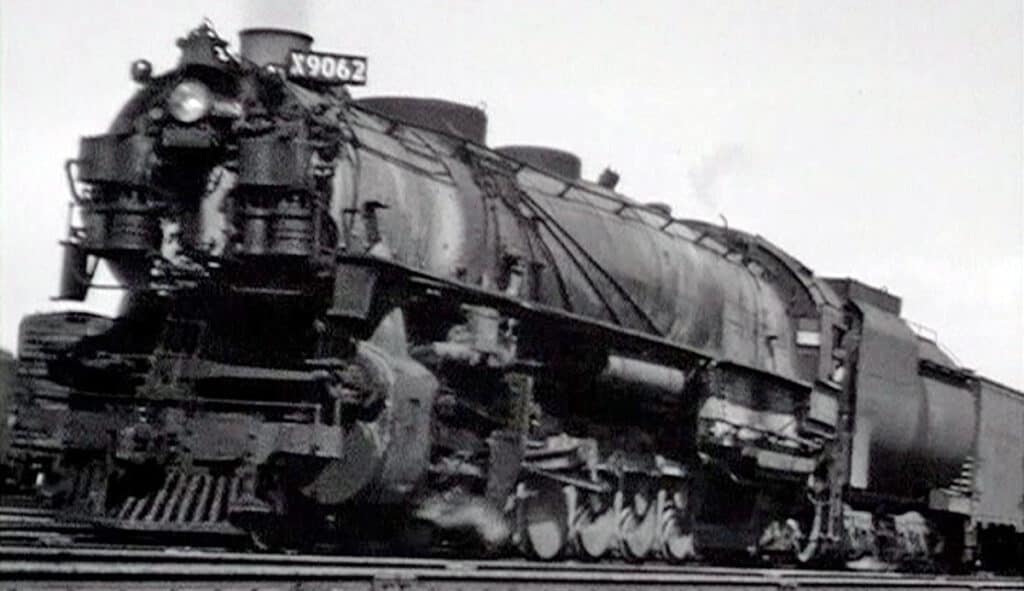 10 Driving Wheels
4-10-2 Only the Southern Pacific (49) and the Union Pacific (10) operated these unique 3 cylinder locomotives produced by ALCO around 1925. The SP called them "Southern Pacifics" and the UP "Overlands". They found decent success on the SP, especially on the Sunset Route, where the rigid frame could better handle the straighter trackage. The UP was not fond of them at all. Both railroads found the third cylinder design to be a maintenance headache and the UP actually rebuilt theirs into 2 cylinder locomotives. Baldwin also produced an experimental 4-10-2, but by the time it was produced, most railroads were shying away from compound expansion locomotives.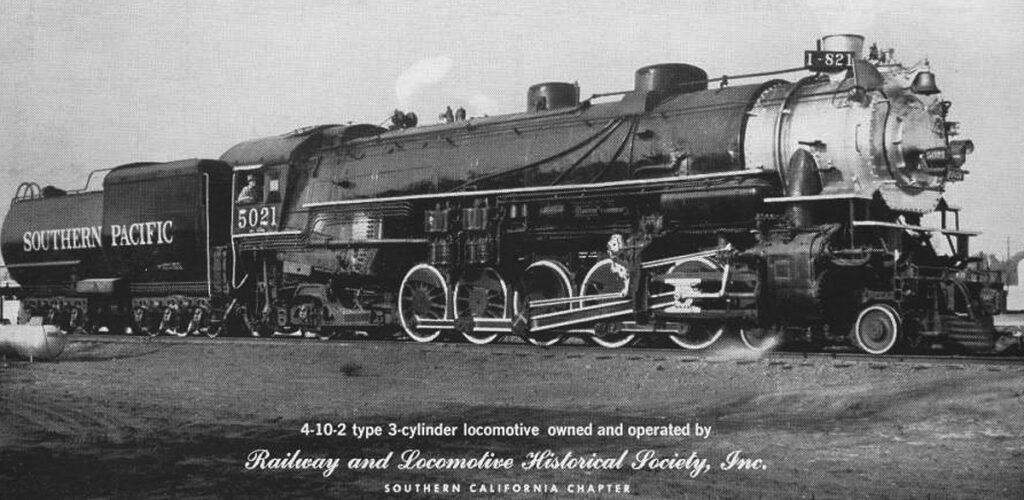 2-10-4 The "Texas" type locomotive was the common name for these machines although the CB&Q called them "Colorado" type and the Canadian Pacific referred to them as the "Selkirk" type. These engines were built by Baldwin, ALCo, MLW and Lima. In the case of the Pennsylvania Railroad which rostered the most (125), these were actually home-built in the Altoona Shops. The Canadian Pacific produced one of their 37 at the Angus Shops. The most famous version of this wheel arrangement is likely AT&SF #5000 which was nicknamed the "Madam Queen". It has been preserved and is displayed at Amarillo, Texas. There are also several other preserved 2-10-4s at locations in North America. 430 of these locomotives were operated by 11 railroads in North America., Including the little Central Vermont. The first one built was in 1919 by the Santa Fe from a 2-10-2. Even then the design was slow to catch on and it wasn't until 6 years later that Lima built ten for the Texas & Pacific. From there until 1944, the rest were produced.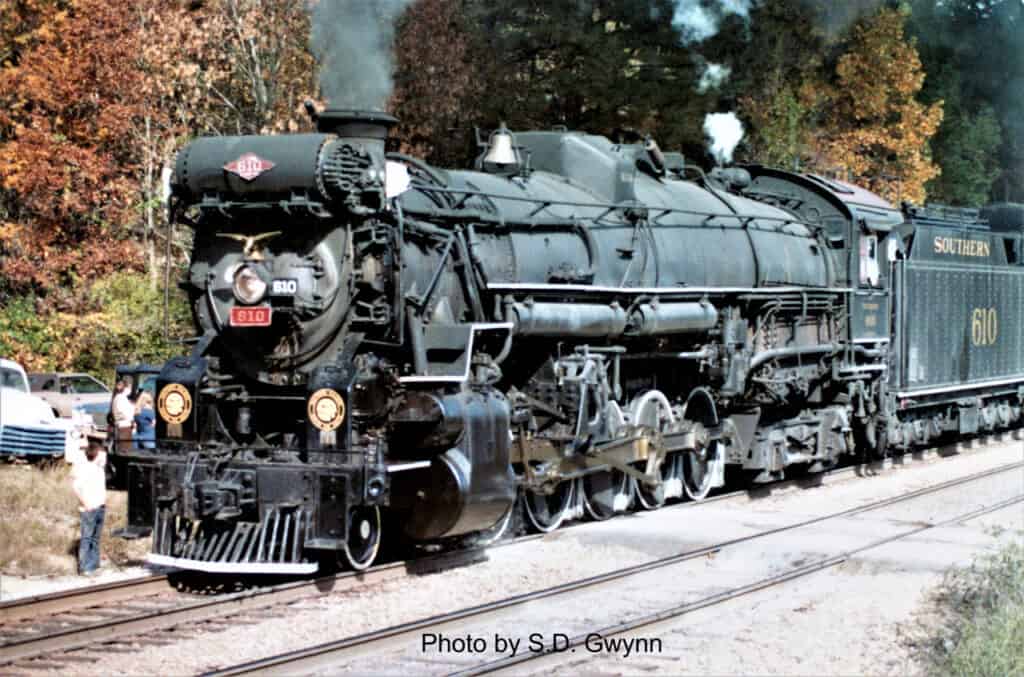 2-10-2 At least 45 railroads employed the "Santa Fe" type locomotive and they were indeed the most popular of the ten driving wheel type. They actually were born from 2-10-0 "Decapods" that the Santa Fe purchased for helper service. Once those engines completed their push of a train over mountain grades, they needed to back down the hill and the problem of not having a pair of wheels guiding the drivers presented itself. The Santa Fe asked Baldwin to add those wheels to several locomotives and the problem was solved. With subsequent developments and improved designs, these became just about every railroads answer to the need for power and versatility. They were well suited for heavy freights, but also were used on long passenger trains. The Baltimore and Ohio Railroad operated the ultimate versions of the 2-10-2 over the Allegheny Mountains. They were nicknamed "Big Sixes" because of their numbering in the 6000 series. The Southern Pacific, hesitant to call them by their rival's name referred to them as "Decks", for their 10 driving wheels. 2-10-2s were built by Baldwin, ALCo and Lima from 1903 to 1930.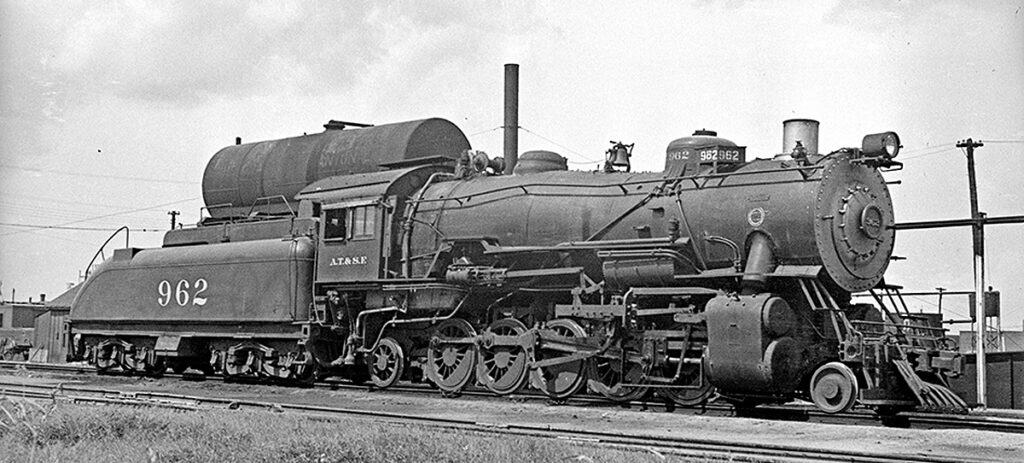 2-10-0 The "Decopod" type was more useful for their tractive effort rather than their horsepower. The lack of a trailing axle meant that the firebox needed to be placed between the drivers forcing it to be narrow, or on top of the drivers which made it too high, limiting the driver diameter. The locomotives were useful for slow, drag freight service, but certainly not for passenger trains. At least 25 North American railroads operated Decapods, with the first being the Lehigh Valley in 1867. It wasn't produced again until 1876 when the Northern Pacific purchased two. The Pennsylvania Railroad operated close to 600 "Decapods", which they class as I1s. The Pennsy also called them "Hippos" due to the large boiler size and comparably small driving wheel diameter. It appears that the last Decapod was built in 1929. The Western Maryland developed the locomotives to peak performance and used them nearly system wide. They were used for coal drag service as well as local and branchline trains. Although the WM greatly improved the design, the Decapods were primarily built by Baldwin, with the Pennsylvania Railroad building 123 of its own.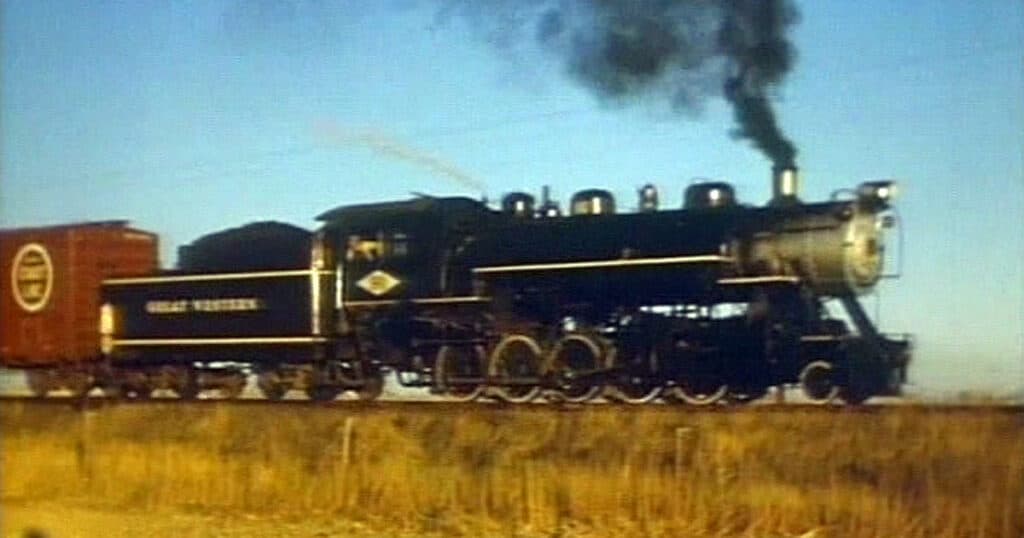 0-10-2 This rare type of locomotive in the U.S. was called the "Union" type. Only the Union Railroad of Southwest, Pennsylvania had 9 of them. They were built by Baldwin in 1936. The Chicago & Northwestern did remove the front axle on a pair of 2-10-2s for hump service, but these were essentially "Santa Fe" types
0-10-0 Hardly a giant, these odd locomotives were relegated to switching duties or slow transfer runs and drag freights because of being unstable due to their lack of guiding wheels at each end. They were not common or popular in North America. Only 9 or so railroads used them and only around 50 were ever built. They were built by various companies including some that were home built. Most called them "Ten Coupled" type.
8 Driving Wheels
4-8-4 The common name for this popular steam locomotive was the "Northern" Some railroads liked other names such as the FEF (four-eight-four) on the Union Pacific, "Niagaras" on the New York Central, and a host of other names. The "Northern" name derived from the Northern Pacific Railroad, the first railroad to operate one, built by ALCo in 1927. No matter what the name, these were powerful, fast and solid locomotives. So much so that even when the steam era ended, The Union Pacific FEF #844 "The Living Legend" (also numbered 8444 for a period), was never retired and is the only active steam locomotive in the United States with that distinction. Several other 4-8-4s have been restored to active service including Southern Pacific "Daylight" #4449, Norfolk & Western class-J #611, AT&SF #3751, Milwaukee Road #261, SP&S #700 and GTW #6325. Some of these locomotives have not been fired up for some time and their operating status is questionable. Another 4-8-4, Reading T1 #2102 is close to being restored to operating condition. The advantage of a two-axle rear truck allowed the Northerns to have a large and heavy firebox, allowing a greater production of steam. The leading 4 wheels provided stability at speed, and with 8 driving wheels, they had good adhesion. 4-8-4s were built by several companies including ALCO, Lima and Baldwin, while Canadian National Railway's fleet was built by MLW. Some that were home-built included Norfolk & Western's Class J's and Canadian Pacific's Over 1100 were operated by 37 railroads in North America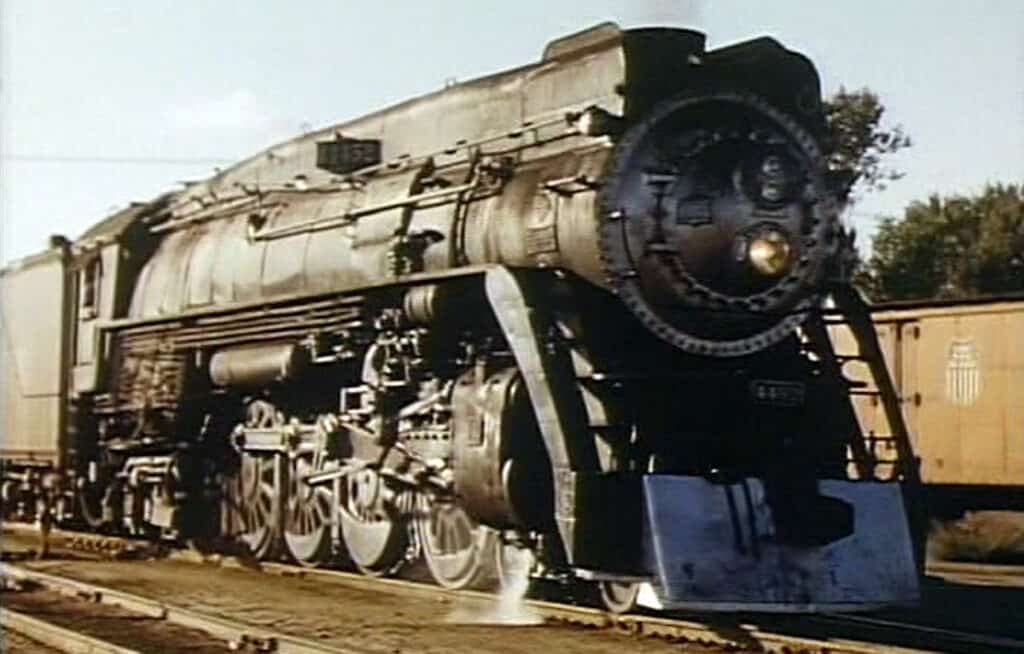 4-8-2 Just over 2200 locomotives with this "Mountain" type wheel arrangement operated on 41 railroads in North America. The New York Central had the most at 600 and more appropriately called them "Mohawks" for the territory they ran along. The Chesapeake & Ohio faced with longer passenger trains in the early 1900's were double-heading Pacific type 4-6-2 locomotives and asked ALCo to come up with something more powerful. It's likely that the "Mountain" name derived from the territory where they ran on the C&O. The advantages of the 4-8-2 were the excellent tracking of 2 lead axles and the adhesion of 8 driving wheels. The trailing axle supported a modest firebox as well as allowing decent tracking at reverse speeds, however there were limitations which were eliminated with the design improvement and technology of the 4-8-4 Northerns. The Mountain types arrived first on the C&O in 1911 and were produced by ALCo, Baldwin, Lima, MLW and a few homebuilt models until 1948. The locomotive was equally competent in freight and passenger service.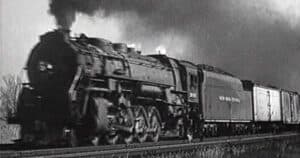 2-8-4 The "Berkshire" Type with a lead 2 wheel guiding axle and a 4 wheel truck that supported a large firebox was one of the best designs for speed and power. The name came from the Boston & Albany Railroad, the first American company to purchase 2-8-4s. The line included the grade of the Berkshire Mountains in western Massachusetts and the locomotives proved to be far superior than the 2-8-2 "Mikados" they were using. From 1926 to 1930, the Boston & Albany purchased 55 copies from Lima. One exception to the name was found on the Chesapeake & Ohio, which owned 90 2-8-4s and called them "Kanawhas". 611 2-8-4 locomotives were operated by 19 railroads in North America, most were lines that were east of the Mississippi, although the AT&SF, Missouri Pacific and Chicago & Northwestern had some as well. Many Berkshires are preserved and displayed at various locations, with a few restored to operating condition, most notably Nickel Plate #765 and Pere Marquette #1225. Berkshires were built by Lima, ALCo and Baldwin from 1925 to 1949.
2-8-2 Eight driving wheels proved to be more stable than 6 because the center of the locomotives' weight was on the 3rd and 4th driving axle as opposed to just the middle driving axle. Two guiding wheels and two trailing wheels allowed a modest firebox that could be placed over them. The "Mikado" locomotive could almost be called the standard freight locomotive of its' time. Just about every North American railroad used them. World War Two made the Japanese name unfavorable and they were often referred to as "MacArthurs" or "Mikes" With over 9500 in North American service, the Mike was the most common freight locomotive until the end of the steam era. The Mikado was built by Alco, Baldwin, Lima and others. Many variations and design options of the 2-8-2 locomotives were built from 1901 to 1949. With 715, The New York Central rostered the largest fleet of Mikados.
2-8-0 The "Consolidation" Type was born in 1866 and built until 1915 when further development of this wheel arrangement had reached a standstill. The name was given from the recent consolidation of the Beaver Meadow, Penn Haven & White Haven and Lehigh & Mahanoy railroads into the Lehigh Valley, the first railroad to use one. The locomotive was to be the ultimate machine for getting heavy trains under way, although at relatively slow speeds. The Pennsylvania Railroad considered it their standard freight locomotive by 1875. At about the same time The Erie Railroad began replacing its 4-4-0s in freight service with 2-8-0s. The realization that a 2-8-0 could move twice the weight and was half the cost of many locomotives it replaced led to more than 23,000 2-8-0s being built in the United States. Although 12,000 were exported world-wide. Relatively small fireboxes and drivers limited both steaming capacity and speed, but they were still well suited for hundreds of railroads in North America. Dozens of the 2-8-0s are preserved at locations throughout North America with at least 17 in operational status on tourist lines.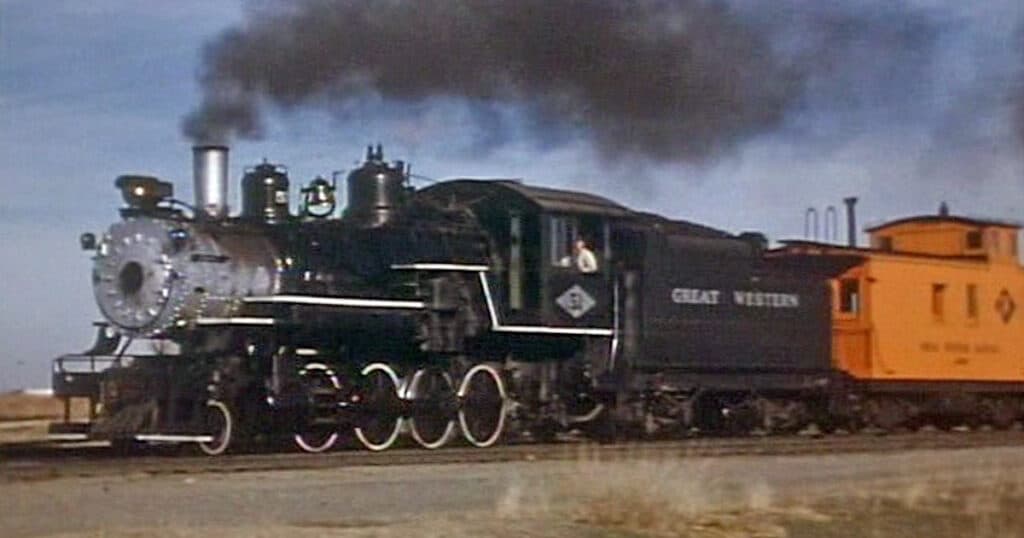 4-8-0 Although about 25 railroads in North America utilized the "Mastodon" type wheel arrangement in the late 1800s and early 1900's, these locomotives were not very popular. They were suited for the freight operations of their time, but better designs were quickly favored. A notable 4-8-0 locomotive is Norfolk & Western M-Class #475, built in 1906 and operated until 1956. From there it received a variety of makeovers, owners, and modifications. Even though it came close, it was never scrapped. It was restored by the Strasburg Railroad in 1993 and is still in service. It was also featured in the 2000 movie "Thomas & the Magic Railroad".
0-8-0 "Eight Coupled" was the common term for this little big switcher and switching was indeed its game, although it was used to handle some general freight. The wheel arrangement was a pioneer for early locomotive development in the United States. By the mid-1840s, the configuration was quite common. 175 examples were built by ALCO, Baldwin and Lima for many different railroads in the United States. In the 1920s, an additional 1,200 0-8-0s were built. The Pennsylvania Railroad built its own 2-8-0s in the Juniata Shop to be used as heavy engines with high tractive effort for switching duties throughout its system. Interestingly, the last steam locomotive built for a class 1 railroad in the United States was 2-8-0 #244 by the Norfolk & Western in December of 1953.
6 Driving Wheels
Our final class of what we would call steam giants boils down to two locomotives, which despite only having 6 driving wheels, sported big drivers and large boilers. They were in several ways, larger, heavier and more powerful than many of the steam locomotives already listed.
4-6-4 The "Hudson" was made famous by the New York Central, which as the largest railroad in the United States at the time was faced with a booming passenger business. Their fleets of K-5 Pacifics were capable of pulling only 12 passenger cars, forcing second sections to be operated on many trains. The NYC entrusted ALCo to build a 4-6-4 design. They became the ultimate passenger train steam locomotive for their power and speed. Although they were first tested along the Mohawk River between Albany and Syracuse, they were given the name "Hudsons" for the river that ran between New York City and Albany. With the New York Central having the largest fleet at 195, about 380 locomotives with this wheel arrangement were built for U.S. railroads with another 90 built for other North American railroads. The Milwaukee Road had 28 and referred to them as "Baltics".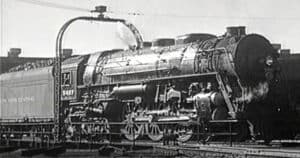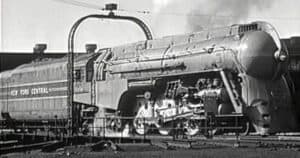 4-6-2 Designed in 1901, the "Pacific" was considered a milestone in locomotive progress. The speed and adequate power for the time, of the "Pacific" type locomotive made it the dominate passenger train locomotive. 6,800 were used by railroads in the United States and Canada. ALCo and Baldwin were the primary builders of Pacifics in North America. The still standing world speed record for steam of 126MPH was set by a British Pacific locomotive, the "Mallard". Modified versions were also built for fast freight and mixed train duties. With the weight of passenger trains increasing during the 1940s, the development of 4-6-4 Hudsons and the 4-8-2 Mountains was inevitable. But the Pacific type was still commonly found on express passenger trains and commuter trains until the end of the steam era.