Union Pacific #3985, A Challenger to the Big Boy
Although American railroad operators have not used steam powered locomotives for revenue service in many decades, several operators like Union Pacific (UP) understand the history and memories that the engines generated.
We're fortunate in the USA to have quite a few restored and preserved locomotives, Union Pacific is the only Class-1 railroad to have a heritage steam program continuously running. While attention is placed on the UP's Big Boy class, it was Union Pacific #3985, a Challenger type steam locomotive, that helped get the wheels turning on the heritage program.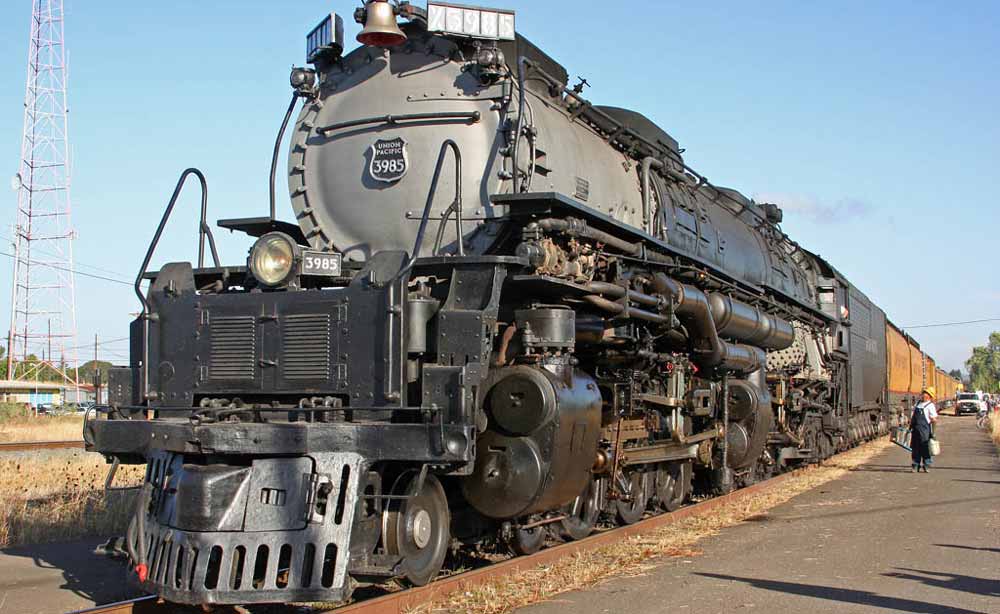 Brief History of Union Pacific #3985
Built by the American Locomotive Company (Alco) in 1943, UP #3985 features a 4-6-6-4 wheel arrangement, known as a Challenger type, and was one of 25 in this group of simple articulated Challengers delivered to Union Pacific. This group of Challengers pulled several design elements and improvements from the recently delivered Big Boy (4-8-8-4) locomotives, making them some of the largest locomotives ever built. With 69″ diameter driving wheels and the ability to generate 5000 horsepower, #3985 was built to handle heavy freight loads. Union Pacific #3985 was built to burn coal, but would be converted to use oil later in her service career.
Her revenue career was pretty uneventful and, like most Challenger type locomotives in the Union Pacific fleet, #3985 primarily led freight trains through Wyoming and northwest. She completed her last revenue run in 1957, though she would not officially be retired for another five years. UP #3985 would make an appearance at the National Railway Historical Society convention in Cheyenne, WY, in 1963 before going into storage for more than decade. From 1975 to early 1979, the locomotive was on static display outside next to the Cheyenne depot.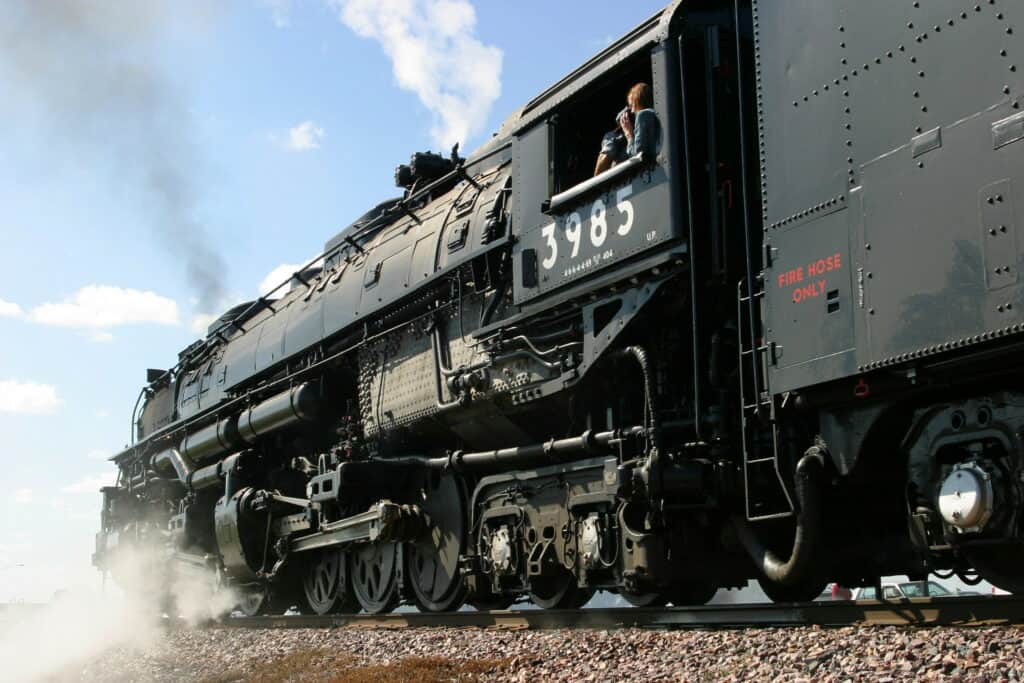 A group of Union Pacific employees sought to preserve the Challenger history; and in 1979 they began restoring #3985 to operating condition. Although she was a UP locomotive, and the workers were UP employees, the planning and actual restoration process was completed by volunteers. Their efforts paid off though when #3985 steamed up in early 1981. She would resume public appearances that year, including a visit during the opening of the California State Railroad Museum.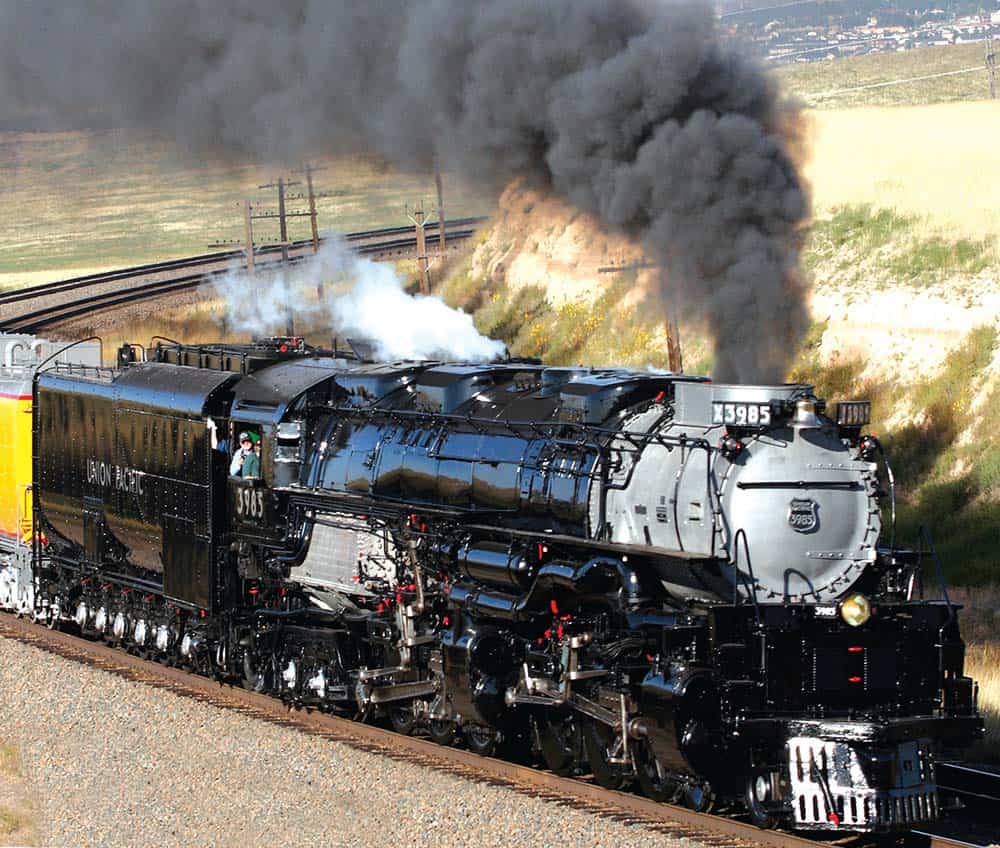 Over the next several decades, #3985 would make several popular runs and excursions, including masquerading as "The Superbowl Special" during a special run in January 2004. For the majority of her excursion career, #3985 was the largest steam locomotive in operation in the United States. One of her last runs saw the locomotive pull the Ringling Brothers and Barnum & Bailey Circus train to Denver in 2010 for a special performance in honor of P.T. Barnum's birthday (fun fact, he would have turned 200).
Following the 2010 season, Union Pacific pulled #3985 from active excursion service. The locomotive had worn down and was in need of both cosmetic and mechanical restoration. Unfortunately, she would be put in storage as UP turned their focus to the recently restored Big Boy #4014. #3985 was officially retired again in 2020.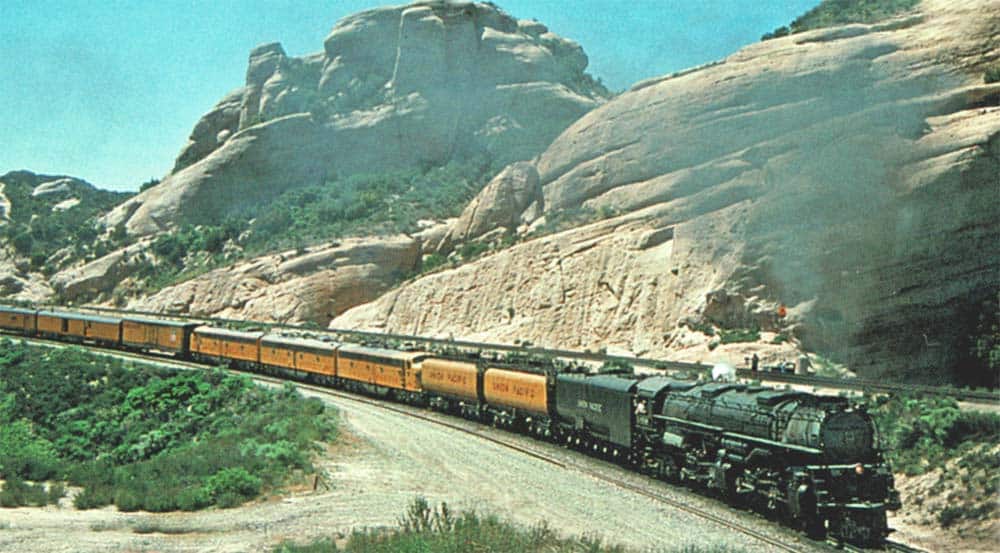 Current Status (Donation of UP #3985)
In Spring 2022, it was announced that Union Pacific was donating #3985 to Railroading Heritage of Midwest America (RHMA), a non-profit, educational organization known for the Friends of 261 project, which led to the restoration and return of Milwaukee Road 261. As part of the announcement for the donation, RHMA announced plans to restore #3985 to operating condition, followed by UP #5511, a 'Santa Fe' type (2-10-2).
While there is no return date set, be sure to visit the Railroading Heritage of Midwest America website to keep up to date with news surrounding the last operating Challenger's restoration and return to service.