UP Donates Challenger 3985
When Union Pacific stepped up their steam game in 2019, bringing Big Boy 4014 into their steam program, they confirmed that they had retired longtime steam program star Challenger 3985. Today, April 28th, they announced its donation to the group that owns and operates Milwaukee Road 261.
Union Pacific 3985, a Challenger type, was built in 1943 and was immediately one of the largest locomotives ever built. It went on to be the largest locomotive still operating when restored out of retirement, rescued from a city park, in 1981 by volunteers of a UP employee group. From that moment, Challenger 3985 steamed right into railfan's hearts.
So fans were heartbroken when the much-loved steamer's second retirement was announced in early 2020. Further tears were shed when Union Pacific started to mumble about parks that could be a fit for a 3985 donation.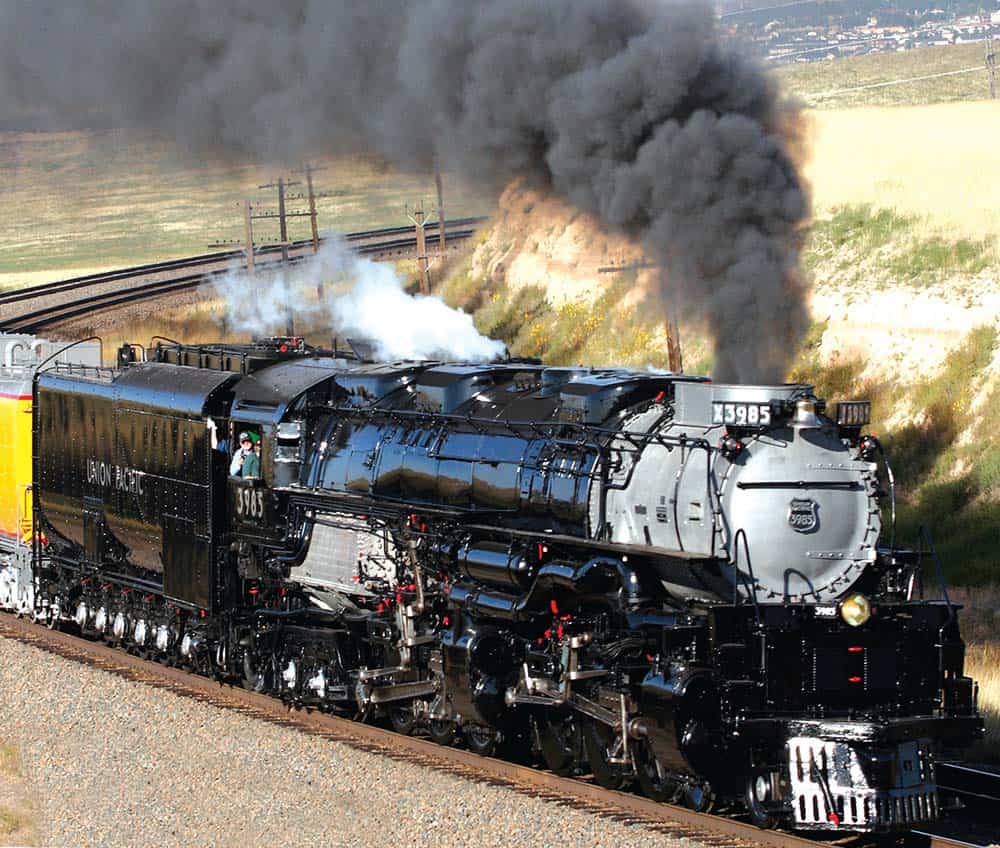 This donation by Union Pacific is huge. It means that Challenger 3985 is not destined to sit and rust away in a park somewhere. We do not know if 3985 will be restored to operation, but the word "restoration" is being used. And the donation is going to a group that has already restored a heritage locomotive to operating condition! So, never say never?
Another hopeful sign that Challenger 3985 could be destined for another career, another revival, is that any restoration job like that would take specialized skill and equipment. And well…
Challenger 3985 Heads to a Large Shop Facility
The donation of Challenger 3985 goes to Railroading Heritage of Midwest America, a non-profit, educational organization. Besides operating Milwaukee Road 261, in 2022 the RRHMA purchased the former Rock Island Shops in Silvis, Illinois. This 90 acre facility includes everything that would be needed to work on a steam engine the size of the Challenger, including multiple overhead cranes.
The main shop building is 400,000 square feet. It's huge and designed from the ground up to work on locomotives. The complex also has a wheel shop, a turntable and other outbuildings. It is served by Iowa Interstate, BNSF and Canadian Pacific.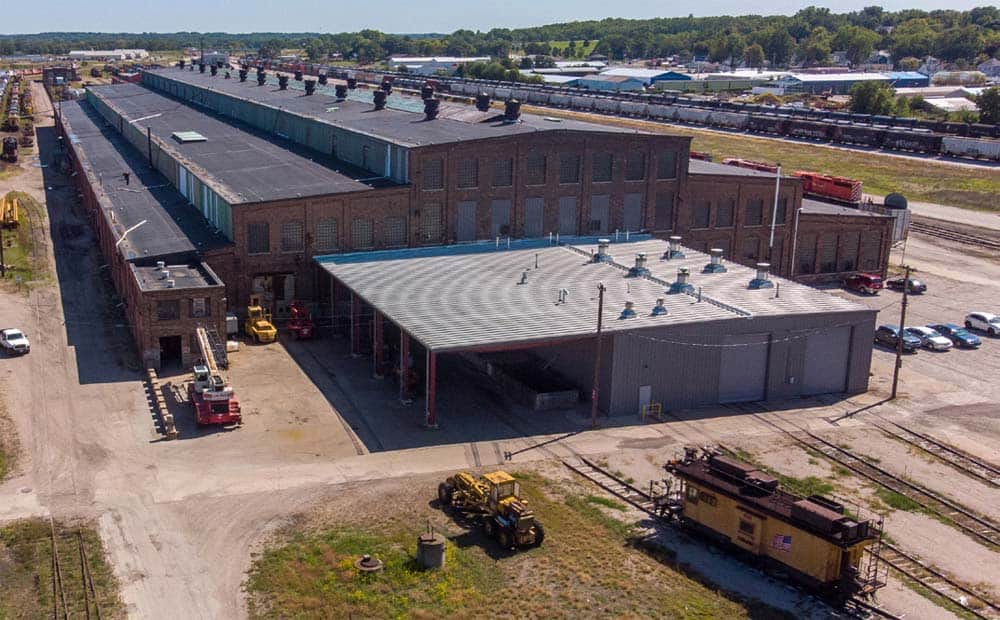 UP Donates a lot more than Challenger 3985
With the Silvis facility, the RRHMA has the space and facilities to store and work on Challenger 3985 – and other equipment. It's a good thing. Union Pacific has also donated to the RRHMA more, much more, equipment:
Class TTT 2-10-2 UP 5511
E9B passenger locomotive shell
Four 1950s coach cars
Diner-Lounge car
Baggage car
Caboose
Two business cars: the Selma, previously Western Pacific's Feather River, and the Stanford, originally the 1928 Southern Pacific Sunset
Uh, yeah…that is a LOT of equipment. It looks like Union Pacific is cleaning house. Railfans should note however that they are keeping their historic business train and the cream of steam: Big Boy 4014 and Living Legend 844 – the only steam locomotive never to be retired by a major American railroad.
More Big Steam and the Biggest Diesel
Note the steam engine 5511, Union Pacific's last 2-10-2, is in the donation mix here. UP 5511 is not likely a candidate for a return to operation. She looks great, having been cosmetically restored for a railfair.
Union Pacific 5511
Union Pacific 5511 was and then kept inside since the cosmetic restoration. But she was retired in 1962 and has since had her piston rods cut. UP 5511 is unique and as a "Sante Fe" type, a really big locomotive that would look great either operating or cosmetically restored.
Centennial 6936
The locomotive many railfans will find notable on this donation list – besides Challenger 3985 – will be Centennial 6936. The Centennial series were the largest diesel locomotives ever built and placed in service. It's not steam, but the Centennials are among railfan's favorite diesels.
Centennial 6936 put in 15 years with Union Pacific hauling freight and then retired to special company service – putting in more miles. It had been kept in serviceable condition by UP's Heritage Fleet Operations.
At last report, 6936 was in running condition. If that is still the case, then the RRHMA has a good piece to start using as a fund raiser. Railfans will no doubt enjoy seeing the beast and riding behind it.
What's next for Challenger 3985?
What will happen to UP 3985? Well, this is all new, so other than Challenger 3985 is being donated – and will eventually be moved to Silvis, Illinois – we just don't know yet. But, really, that is a lot more than we knew just a few weeks ago. And a lot better news than we feared a year or so ago!
As for the unspoken "elephant question" in the room, "Will Union Pacific Challenger 3985 ever run again?"… that is now up to the Railroading Heritage of Midwest America group. But, the answer now at least looks like it could be forthcoming. And it looks more like it could be a positive answer. To get a "yes", may mean donations, so railfans may need to pony up to get what they want!
We'll Keep You Informed
Steam Giants will have more information on this donation, for instance on when the move of 3985 and 5511 from Cheyenne to Silvis will happen, as soon as we learn anything. So watch this space!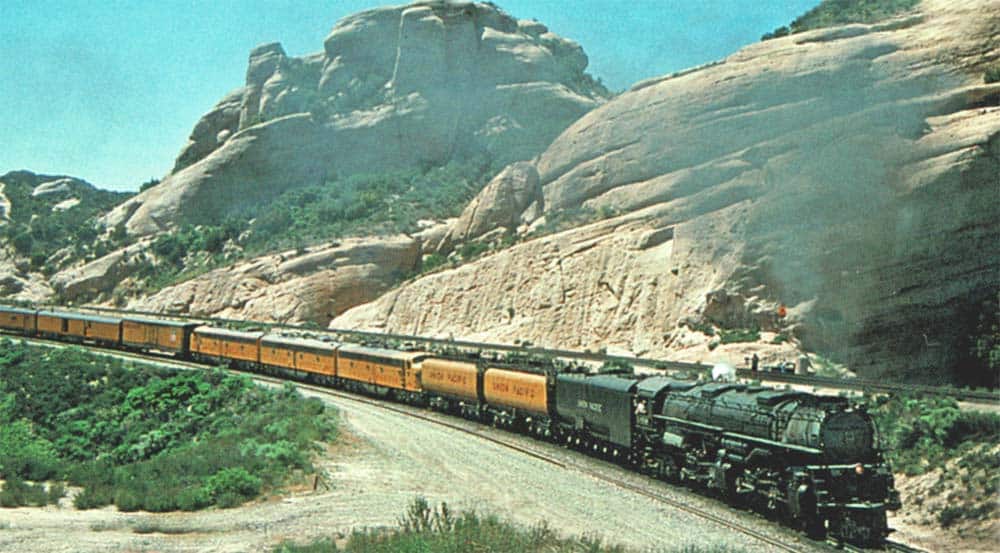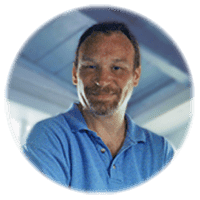 Railfan and model railroader. Writer and consumer of railroad news and information.