Obituary: Jim Wrinn, Railfan, Steam Advocate, Industry Advocate
Railroading and railfans have lost a friend and ally. Jim Wrinn, long-time editor of Trains Magazine, died March 30, 2022. After a 14-month fight with pancreatic cancer, Jim died at his home with love around him. He was 61.
Jim Wrinn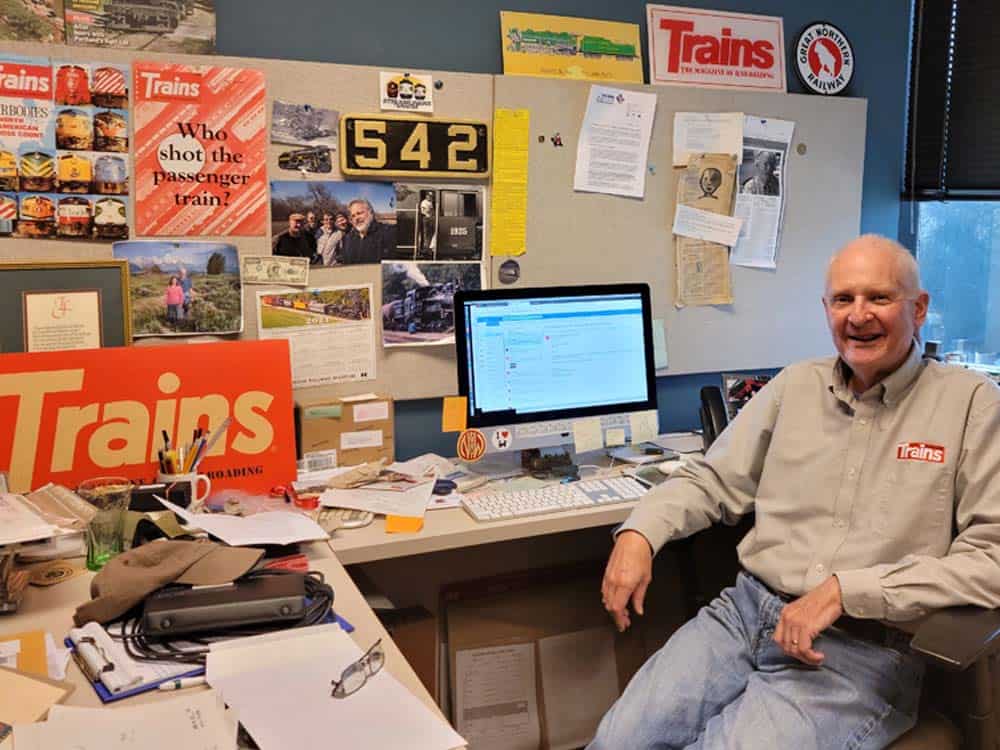 While Jim covered all aspects of railroading, steam was a passion. He made sure to cover steam restoration projects and gave every effort the spotlight it needed to attract volunteers and investment.
During his time as Editor, Trains gave away tens-of-thousands of dollars to various preservation projects. He personally visited many of these projects and often wrote the defining article for the preservation project.
Jim became editor of Trains Magazine in 2004, but he and the magazine had been inseparable for nearly his entire life. He began reading Trains at the age of six during the tenure of legendary editor David P. Morgan. Jim said Morgan's writing informed his own, especially the passion for railroading the writing evoked.
Jim Wrinn, Reporter, Writer, Editor
It wouldn't be long before the Jim/Trains relationship became a two way street. Jim's first contribution was a news article in 1982. He was just 21. His first byline appeared on a story in 1989, about Hurricane Hugo's damage to railroads in Jim's own backyard, the Southeast. There would be many more bylines and several books, including "The Road of Personal Service" about the Aberdeen & Rockfish.
The book Jim is most identified with, "Steam's Camelot", is the definitive history of steam after regular service ended on the Southern and Norfolk Southern railroads. He begins the book with the last run of N&W 611 in 1959 and ends it with the rebirth of steam with N&W 611 as the centerpiece, in the 1980's
His love for steam and preservation showed as he lead Trains to wall-to-wall coverage of the resurrection of Union Pacific Big Boy 4014, including, on its first run to Ogden, a live tag-team stream on the internet.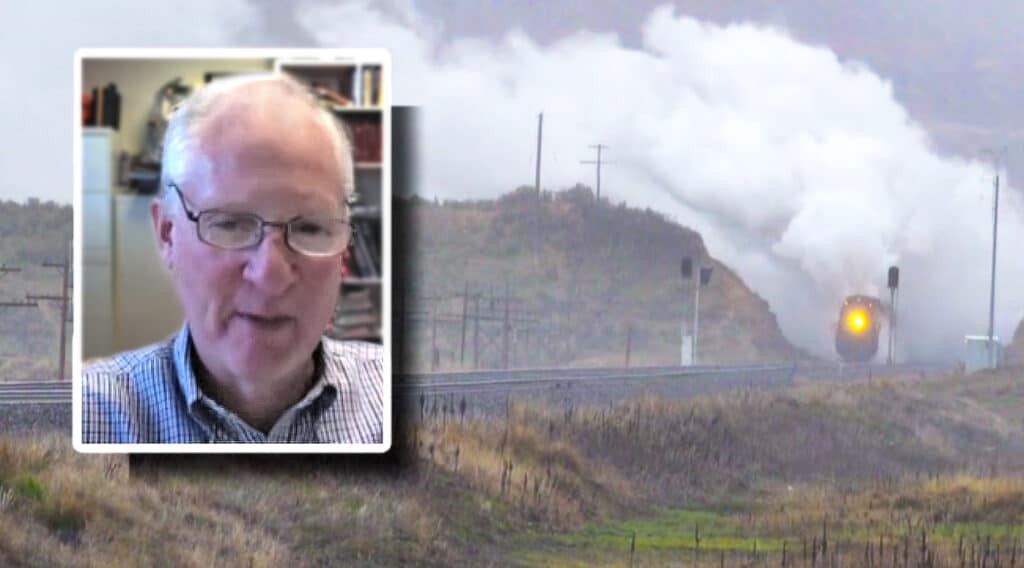 Jim was always helpful and available to the railfan Community. After Big Boy 4014's run in 2019, Pentrex interviewed him for their coverage of the run from Cheyenne to Ogden and back. His insights were an interesting part of the Pentrex video coverage.
Jim Wrinn, Passionate Steam Advocate
Jim made sure Trains was at the forefront of steam preservation. When Big Boy 4014 went out again in 2021, Jim made sure Trains was there too. Coverage of any steam restoration project was often and complete. He was instrumental in several projects, including the Nevada Northern's effort to put #81 back on the rails.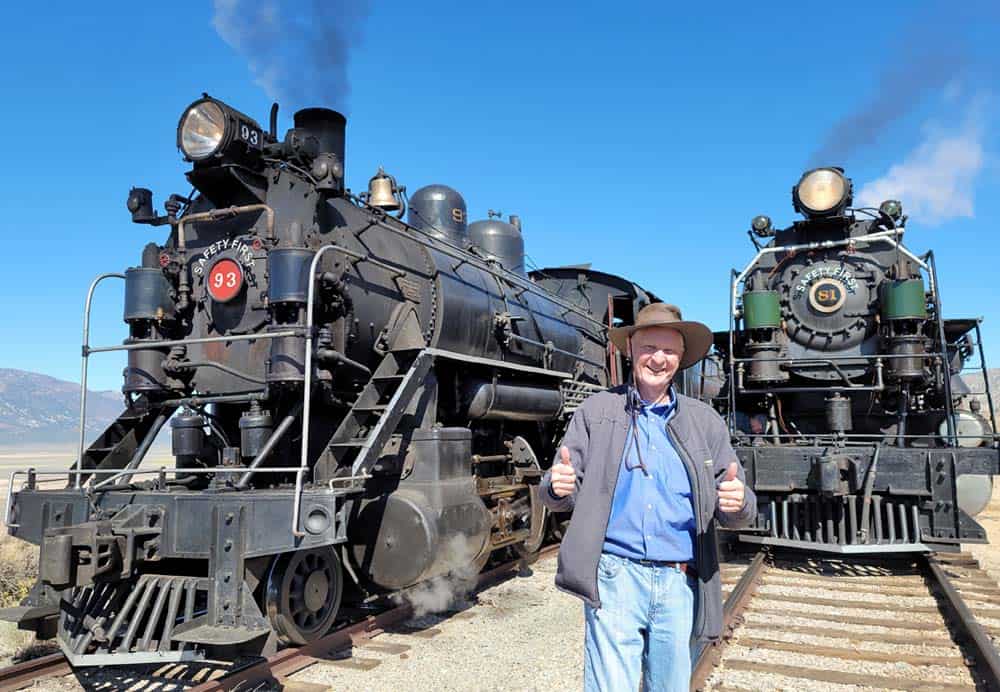 When the job was done in October, 2021, Jim wrote in Trains, "Nevada Northern No. 81, a 2-8-0 possessed of great personality and character on this remote south central Silver State copper railroad that has rightfully taken a place of honor and reverence as one of the most complete preserved railroads in North America."
He noted 2021 was the year Nevada Northern brought #81 back to life and it marked the 81st year for Trains Magazine. He wrote, "Locomotive 81 and the railroad have now earned a special place in the history of Trains Magazine, and vice versa. It is an honor to both organizations."
Jim Wrinn wasn't just a steam preservation journalist and advocate. He put his own time and money into steam preservation. Beginning in 1986, well before he became Trains Magazine editor, Jim volunteered at the North Carolina Museum of Transportation in Spencer. Most recently he served as Vice President of the museum's foundation.
Memorials by donation
The family asks that memorials be made to the North Carolina Transportation Museum Foundation. You can donate here, at the foundation's website donation page. Director of Development, Betsy Mowry said, "Please note "In Memory of Jim Wrinn" with your donation. Unless otherwise specified, all donations made "In Memory of Jim Wrinn" will be directed to the Graham County Shay No. 1925." Shay #1925, from Jim's own hometown area, was a favorite of his.
Jim Wrinn, Industry Advocate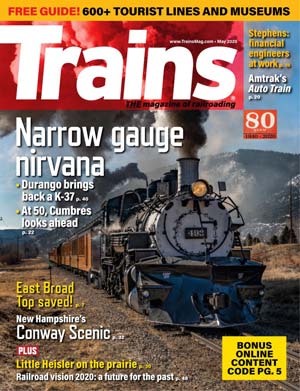 At Steam Giants, we know Jim as a railfan advocate and a steam preservation supporter. However, as the editor of Trains Magazine, which advertises itself as, and it truly is, "THE Magazine of Railroading", Jim knew all the players in the railroad industry. The railroad industry reads Trains, and therefore Jim had influence in the wider railroad world. He was also an advocate for the railroad industry.
Former CEO of Amtrak and Norfolk Southern Wick Moorman told Trains Magazine, upon Jim's death, "When Jim became editor of Trains, we all felt that he would do an excellent job, and, if anything, he exceeded those expectations. His passing is a loss not only to all of us who knew him, but also to everyone who has a passion, either personal or professional or both, for railroads."
Jim worked with shortlines and regionals and all the big players in the railroad business. With Union Pacific he was double dipping. Jim was able to cover the railroad from an industry perspective and as an advocate of steam preservation.
Union Pacific remembered Jim in a very touching and poignant way. Temporarily, in place of the famous chalked "Big Boy" on Union Pacific 4014's smokebox door, Union Pacific chalked, "Jim Wrinn". A touching and telling gift to Jim's memory.
Before joining Trains as Editor, Jim worked for the Charlotte Observer 18 years as a reporter and then an editor. His service to the railroad industry and railfans as Editor of Trains was 17 years. The second longest time at the helm of the magazine, only surpassed by Jim's railroad writing mentor, and legendary editor, David P. Morgan.
Jim often said, being the Editor of Trains Magazine was his dream job. A job he had thought about since his graduation from college with a journalism degree. As remembrances come in from around the world, it's apparent that Jim Wrinn did himself proud, and all of us benefited, in his dream job.
For more about Jim, from his co-workers at Trains Magazine, see this article.
Trains Magazine has named former Editor Kevin P. Keefe as Interim Editor.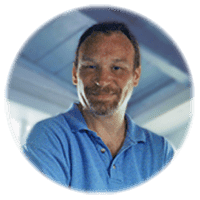 Railfan and model railroader. Writer and consumer of railroad news and information.