Eureka, Wood Burner from Silver State to Hollywood (And Back!)
Eureka and Palisade #4 has enjoyed a career that many locomotives dream about. After a fruitful revenue service career, the locomotive found itself in Hollywood. Now privately owned in Las Vegas, Nevada, Eureka still steams at nearly 150 years old.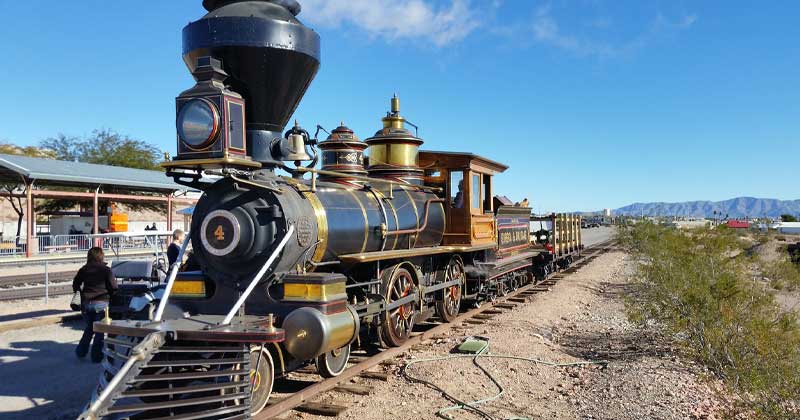 A Brief History of the Eureka and Palisade #4
Simply known as the Eureka, this wood-burning steam locomotive was manufactured in 1875 by Baldwin Locomotive works and features a wheel arrangement of 4-4-0 (American-Type). She is one of three "class 8/18 C" steam locomotives still known to exist. Originally, #4 was used to haul both freight and passenger trains between the mining town of Eureka and Palisade; a town that connected to the Central Pacific Railroad.
The locomotive would later be sold to the Sierra Nevada Wood and Lumber Company in 1896. It served the company for several decades until its dissolution in 1938. The engine was sold to a scrap dealer who would later sell it to Warner Bros in 1939. Under Warner Bros, the locomotive appeared in many films including The Great Train Robbery, Cheyenne Autumn, Torrid Zone, among many others.
This historic locomotive would exchange hands several times until it was bought by Las Vegas attorney, Dan Markoff in the 1980s. This was after it was severely damaged in a fire that occurred at its previous home in Old Vegas in Henderson, Nevada.
Eureka isn't the only steam locomotive still steaming after a career in Hollywood. Rio Grande #20, which can be found in nearby Colorado, also had an illustrious career in Hollywood in addition to working on the railroad.
Current Status
With the help of his father, Dan Markoff restored Eureka to operating condition. It made its debut at Railfair 91' and has since been a common feature in various train events in Nevada and California. It was listed on the National Register of Historic Places in 1995.
Today, Eureka is still owned by Dan Markoff and often makes special appearances on the Nevada Southern Railroad Museum as well as on the Nevada State Railroad Museum.