SP #5021, The Last Southern Pacific Type
As steam train technology developed during the early 20th century, many railroads began incorporating articulated steam locomotives which could accommodate more driving wheels which could in turn allow other changes for additional speed and power. On the other hand, Southern Pacific (SP) Railroad became extremely fond of the 4-10-2 wheel arrangement. A total of 49 of these locomotives, which would become known as the 'Southern Pacific' type, were delivered to the railroad. Today, there is only one remaining Southern Pacific type that graced their rails, SP #5021.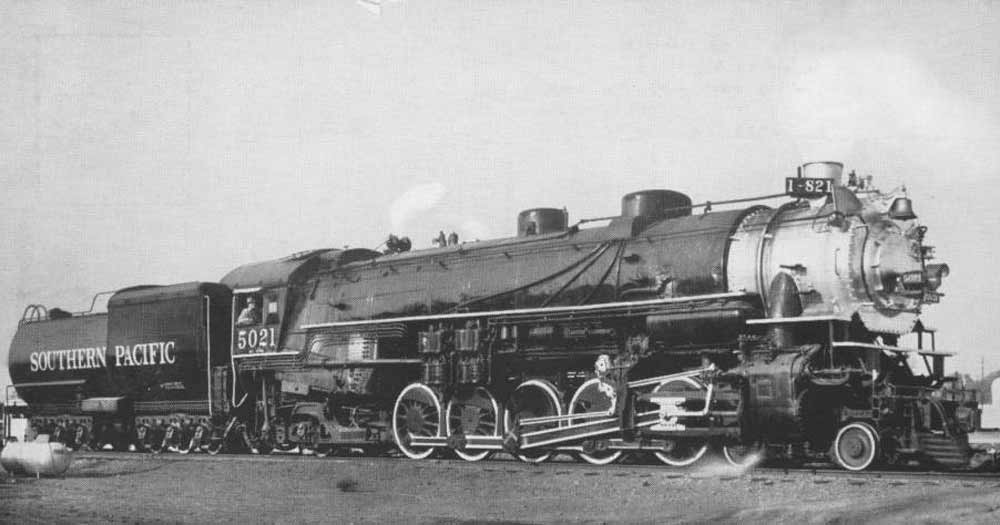 Brief History of SP #5021
SP #5021, part of the SP-2 class, was built by the American Locomotive Company (ALCO) in 1926 as part of Southern Pacific's second order of 4-10-2 locomotives. Designed for mixed use, #5021 had both the power output (84,200 lbf tractive effort) and speed (max 70 mph in passenger service). The SP-2 class was built with 3 cylinders, a rarity for steam engines for many reasons. In fact, there are less than ten 3-cylinder locomotives still remaining in the United States.
For the majority of her career, SP #5021 was used to haul both passenger and freight trains through the Sierra Nevada Mountains over Donner Summit between Reno and Sacramento. As SP moved towards dieselization, SP #5021 and other SP-2 locomotives were reassigned to other routes on the railroad. Unfortunately, the rigid wheel structure limited the routes the SP-2's could operate on without requiring major adjustments to curves on the tracks. #5021 spent her twilight years leading trains near Portland, Oregon. After nearly 30 years of traveling the West Coast, SP #5021 was retired in 1955.
Shortly after her retirement, the locomotive was donated to the Railway and Locomotive Historical Society (RLHS). The RLHS chapter in Southern California operates the Rail Giants Steam Museum in Los Angeles, so the locomotive made its way there for static display.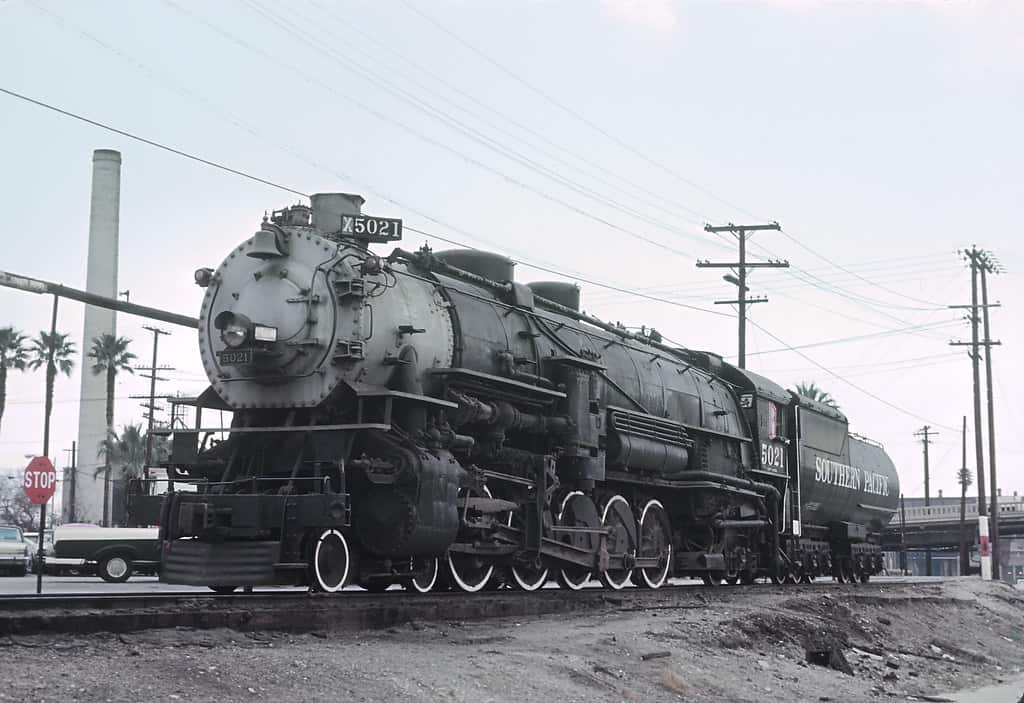 Current Status
Today, SP #5021 is the only remaining SP-2 locomotive to not be scrapped, though another 4-10-2, the 60000th locomotive built by Baldwin is also preserved. SP #5021 remains on static display at the Rail Giants Steam Museum at the Los Angeles County Fairgrounds, where she is on display with UP #9000, the last remaining Union Pacific Type, among other historical steam locomotives.
To learn more about the museum, including visiting information and details about rolling stock, be sure to visit the Rail Giants Train Museum website.