Texas & Pacific #610, Big Steam in the Lone Star State
There is an old saying that 'Everything is bigger in Texas'. When it came to steam locomotives, the Texas & Pacific (T&P) Railway proved this fact by utilizing a 'new' steam locomotive design that featured a 2-10-4 wheel arrangement, which became known as the 'Texas type'. Although the railroad company utilized many Texas type steam locomotives during the first half of the 20th century, the only remaining locomotive of the group is Texas & Pacific #610.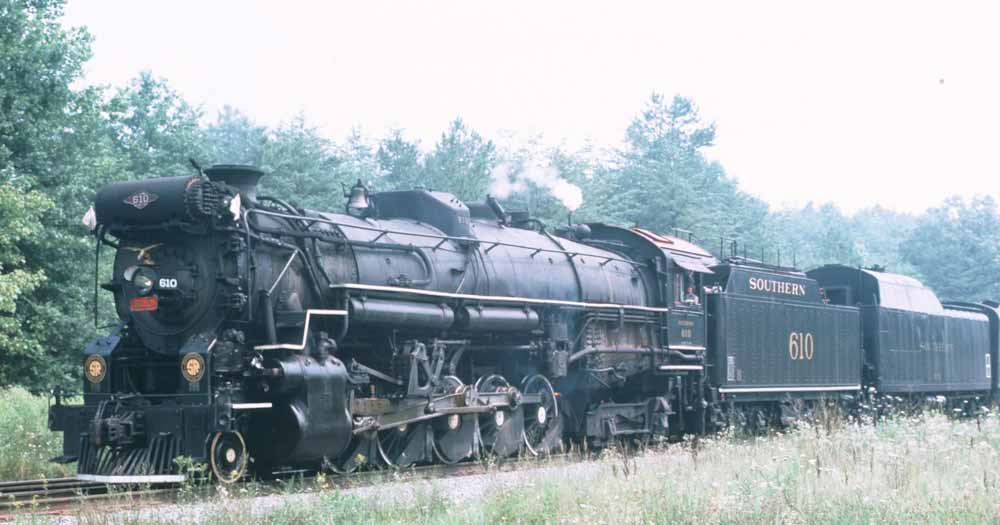 Brief History of Texas & Pacific #610
Texas & Pacific #610 was built in 1927 by Lima Locomotive Works. While another railroad (ATSF) briefly experimented with a 2-10-4 wheel arrangement nearly a decade earlier, they determined that the new design didn't meet their needs and did not move beyond the initial trials. A few years later, T&P experimented with the design and eventually ordered several from Lima. As the case for most locomotive designs, as the first company to implement the design, T&P was given the opportunity to nickname the type and elected to nickname it after the railroad (and state).
Thesw locomotives were built to be workhorses and #610 did just that. The locomotive used oil for fuel and her 63″ diameter driving wheels helped her produce a tractive effort of more than 100,000 lbf with her booster. After serving the railway for more than two decades, T&P #610 saw her revenue career end in 1951.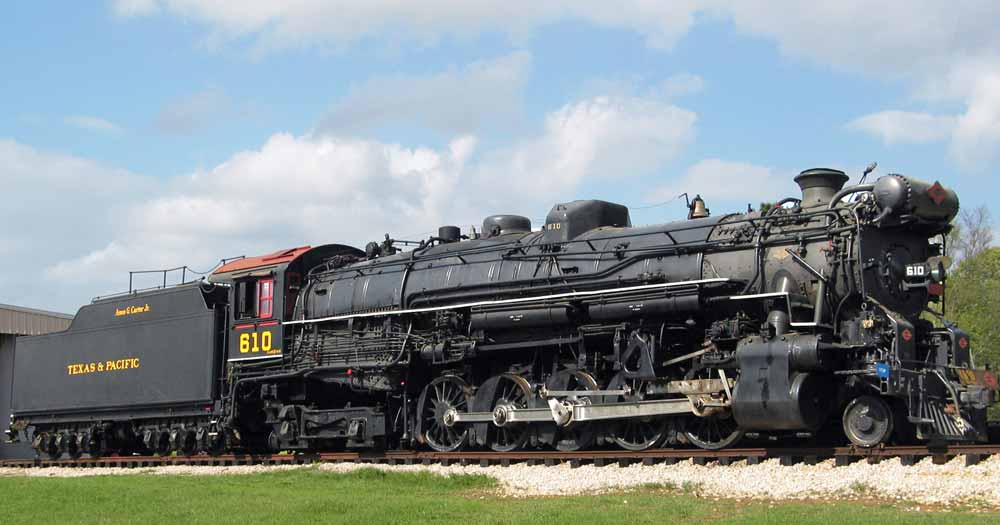 While the majority of Texas type locomotives were scrapped after retirement, T&P #610 was placed on static display in Fort Worth. She remained static for another two decades before being selected as a leader of the American Freedom Train in 1976 for America's bicentennial celebration. Although the locomotive needed significant work that fell well behind schedule, she was able to be restored in time to lead the AFT across Texas.
Following the American Freedom Train tour, the locomotive was leased to the Southern Railway to be part of their steam excursion roster. T&P #610 was operated by Southern from 1977-1981; but the program eventually needed more power than the locomotive could provide, so T&P #610 made her way back to Texas for static display.
Current Status
Today T&P #610 is on static display at the Texas State Railroad in Palestine, which is about two hours southeast of Dallas. While the railroad remains active with various excursions, it is highly unlikely that #610 will return to service given the amount of effort that would be required to make her operational again and the limited use she would likely see. But, as the largest preserved non-articulated steam locomotive built by Lima still remaining, T&P #610 will likely remain on display as a reminder of the steam era in Texas.
If you are interested in learning more about the Texas State Railroad and their roster of equipment, including #610, be sure to visit the TSR website.