The History of Rogers Locomotive & Machi Works 
Body
Originally founded in 1832 as Rogers, Ketchum and Grosvenor, Rogers Locomotive Works began as a partnership between Thomas Rogers, Morris Ketchum and Jasper Grosvenor. Thomas Rogers began his career in machining for the textile industry. Through his joint venture with Ketchum and Grosvenor, their company began to manufacture axles, springs, and other parts for use by the railroad industry.
Rogers drew on his own experience with manufacturing textile machinery. He dismantled an English locomotive that had been purchased by the Paterson and Hudson River Railroad to study steam locomotives and improve on their design. After making extensive studies of the mechanics, their company announced plans to produce their own locomotives. 
In their early years, Rogers, Ketchum and Grosvenor filled orders from many other locomotive manufacturers of the time, including Baldwin Locomotive Works and Norris Locomotive Works. With new designs for their own locomotives, they were soon able to expand without orders from other companies.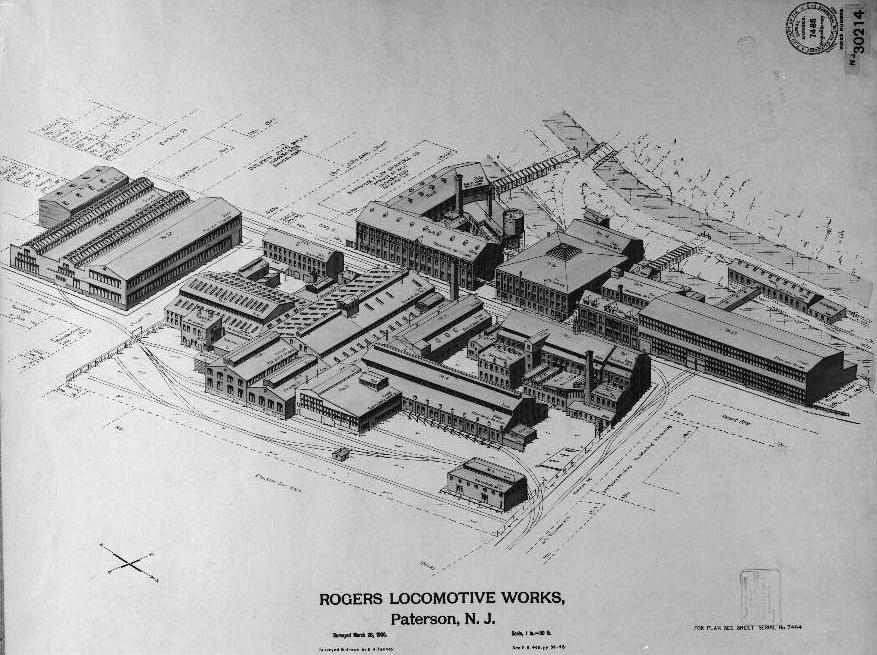 Eventually working its way up to assembling their own brand of locomotives, their first completed project was The Sandusky, which began in production in 1835 and took sixteen months to complete. The Sandusky featured new components for the railroad market and made its inaugural trip from Paterson to Jersey City, then to New Brunswick and back to Paterson on October 6, 1837. Rogers designed cast iron driving wheels for locomotives with built-in counterweights that helped reduce the amount of wear on tracks that could be caused by the weight of the driving rod and wheels.
The connection of Rogers Locomotive Works to other railroad companies would continue. At one time, William Swinburne worked as the superintendent at RLW, and eventually formed his own partnership with Samuel Smith. Their company, Swinburne, Smith & Company, would go on to become Grant Locomotive Works. John Cooke, another Rogers' employee, formed his own locomotive production company, Danforth, Cooke & Company. Zerah Colburn, a reputable locomotive engineer, provided many design improvements during his time with RLW before going on to become an editor and publisher.
Production at Rogers Locomotive Works went from one engine in their first year of business to just over 100 locomotives a year within 20 years. At that point, RLW was the leading manufacturer of steam locomotives, and they kept that position for a decade.
The locomotives produced by RLW were known for their power and capabilities throughout the U.S. railway system. Here are a few of their noteworthy models:
The Uncle Sam (serial number 11), built in 1839 for the New Jersey Railroad and Transportation Company, was a 4-2-0 locomotive with one powered axle behind two unpowered axles in front. At the time, it was reported by American Railroad Journal that it could haul a 24-car train up a grade of 26 feet per mile.
In 1846, they built the Licking (serial number 92) for the Mansfield and Sandusky Railroad. It could generate 110 psi of steam pressure with the ability to pull a 339 long-ton train up a grade of 16 feet per mile.
The General (serial number 631) was a 4-4-0 model built in 1855 for the Western and Atlantic Railroad. The General was one of two locomotives involved in The Great Locomotive Chase, a military raid that occurred during the American Civil War. Volunteers from the Union Army took control of The General near Chattanooga, Tennessee, and drove it northward, destroying lines of the Western and Atlantic Railroad behind them as they went. They were eventually captured after being pursued by Confederate forces, but not before dealing a blow to the South's transportation and supply lines. The General has been preserved and is on display at the Southern Museum of Civil War and Locomotive History in Kennesaw, Georgia.
Known for its power and endurance, a locomotive built in 1853 and purchased from RLW for the Illinois Central Railroad (serial number 449, Engine 4-4-0, number 23) was estimated to have traveled over one million miles during its thirty-year career.
Like many other steam locomotives manufactured in Paterson, New Jersey, some from RLW were shipped overseas and were part of the campaign to build the Panama Canal.
Perhaps the most famous product to come out of the RLW facility would be one of the coal-burning 4-4-0 steam locomotives sold to the Union Pacific Railroad. These engines were placed into service in western Wyoming and Utah, and Engine No. 119 gained historic significance on May 10, 1869, when it took part in the "Golden Spike" ceremony marking the completion of the first Transcontinental Railroad in Promontory, Utah. Sadly, No. 119 could not avoid the scrapyard and was demolished after 35 years of service. However, a full-scale, operating replica was built to completion in 1979, and it resides in the collection of the Golden Spike National Historic Site.
Thomas Rogers served as company president until his death in 1856, at which time his son, Jacob, led a company reorganization that included a name change to Rogers Locomotive and Machine Works. For 20 years, the company manufactured both locomotives and textile machinery. After Jacob's retirement in 1893, Robert Hughes led the company through a new reorganization as president of the newly named Rogers Locomotive Company. Jacob Rogers remained the company's principal investor and after Hughes died in 1900, he closed the Rogers Locomotive plant.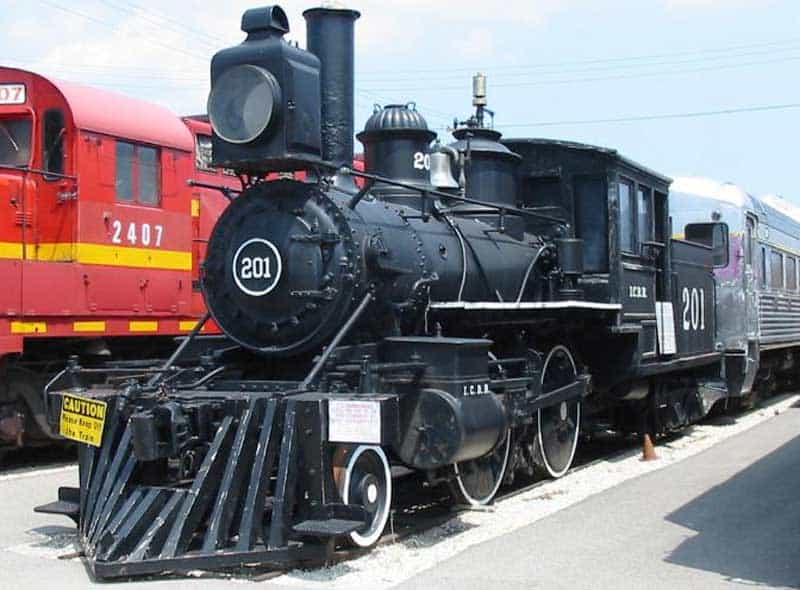 A year later, Rogers died as well. This was in the same year that the American Locomotive Company (ALCO) was established as a result of eight locomotive producers merging. ALCO brought significant advantages to the industry and Rogers Locomotive Works was unable to remain competitive. 
In 1904, ALCO purchased Rogers Locomotive Works and continued building engines at the Rogers plant until 1913. The original locomotive erecting shop building was renamed the Thomas Rogers Building, and since 1982 has housed the Paterson Museum, which preserves the local history of Paterson and Passaic County.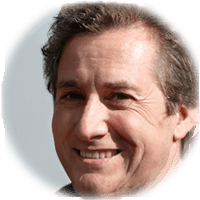 A longtime railfan, Bob enjoys the research that goes into his articles. He is knowledgeable on many railroad topics and enjoys learning about new topics. You can get a hold of Bob at his email link below.