The History of Vulcan Iron Works
There were several manufacturers around the world that used the name Vulcan Iron Works, but the location in Wilkes-Barre, Pennsylvania was a domestic U.S. manufacturer of mining equipment and locomotives. Founded in 1849 by Richard Jones, the company was active in the railroad industry until 1954. In 1888, the company acquired the Wyoming Valley Manufacturing Company and, with it, an interest in manufacturing locomotives. It began as a response to the growing demand for coal that was being mined in eastern and central Pennsylvania.
Vulcan used steam power designs for different modes of transport that would assist the coal industry, including a steam-powered boat. Their facility included a blacksmith boiler shop, pattern store, machine shop, foundry, and company offices. Their location gave them easy access to nearby rail lines including the Lehigh & Susquehanna Railroad and the Pennsylvania Canal.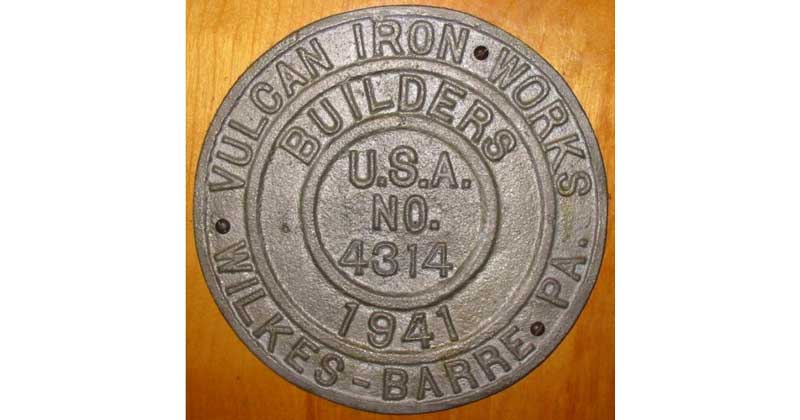 Vulcan's smaller locomotives were ideal for light-duty use in mining operations and industrial applications. The smaller models had a variety of wheel arrangements. Nicknamed, "dinkies", these smaller engines were very popular in the U.S. Larger models were popular for overseas applications, including South American and European railways.
Vulcan advertised their steam locomotives as being built to meet any requirements for underground or surface work around mines, from small, low-head narrow gauge four-wheelers to 75-ton mogul or consolidation types. The company claimed that their study of mining conditions and the requirements necessary to meet them led them to develop designs that were practical and necessary for locomotive mining operations.
Their largest locomotive produced was a B-B unit built for Carnegie Steel Company in 1944. 
Vulcan Iron Works and World War II
Around the time that the locomotive industry was transitioning to diesel and electric propulsion, it was also a time when many manufacturers were changing their production lines to accommodate war materials for WWII. Company materials proclaimed that many of their locomotives were doing important war-time service domestically and abroad. The company said, "…our shops are working at top speed to complete urgent orders for the Army, Navy, and defense plant requirements." Vulcan locomotives also helped with post-war rebuilding.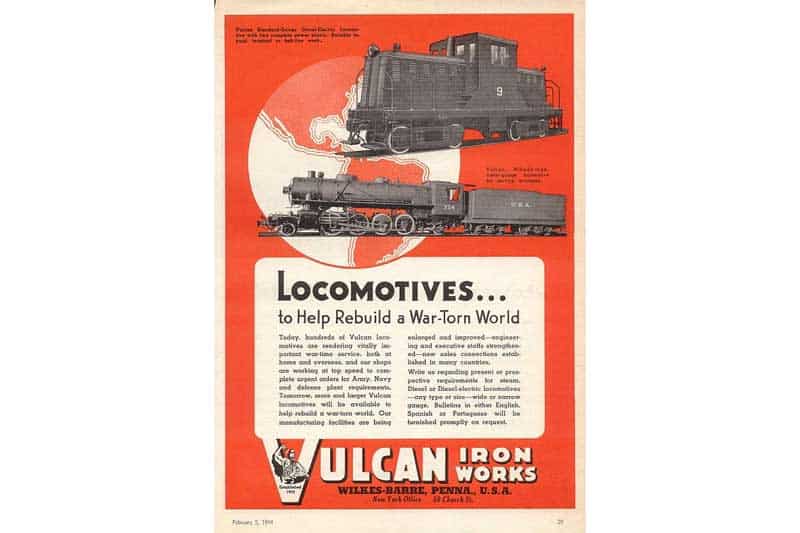 Vulcan Iron Works was not able to survive the transition of locomotives to diesel power, although they did build a large number of gasoline locomotives with mechanical drives. With a number of competitors who were producing diesel engines faster, the stiff competition was too much to overcome. At this same time, Vulcan experienced a lack of interest in their other products—processing machinery for coal mining and material moving equipment. Gasoline and diesel-powered trucks began to replace locomotives, which led to the company's revenue declining in several different markets. 
Vulcan Iron Works stopped production of locomotives in 1949 and other machinery in 1954. After the company closed, General Industrial Locomotive Corporation acquired its assets.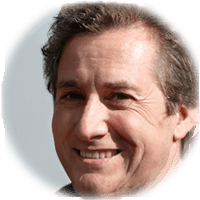 A longtime railfan, Bob enjoys the research that goes into his articles. He is knowledgeable on many railroad topics and enjoys learning about new topics. You can get a hold of Bob at his email link below.