Cedar Point & Lake Erie, Steam Locomotives That Thrill
Railroading is, without a doubt, nothing new to Cedar Point & Lake Erie (CP & LE) Railroad. In its 151 years of existence, this railroad has been home to real workhorses; and even today, after being turned into a heritage railroad and amusement park in 1963, this 3ft narrow-gauge railroad continues its long-standing association with some of the most historic steam locomotives in the country.
A Brief History of The Locomotives
CP & LE #1
Locomotive #1 is perhaps the most traveled steam locomotive on the Cedar Point & Lake Erie roster. It's nicknamed G.A. Boeckling after George Arthur Boeckling who served as the President of Cedar Point Pleasure Resort Company. #1 is a 2-4-0 steam locomotive that was built by Davenport Locomotive Works in 1927 for N & S Coal Company of Pittsburg, Kansas.
This locomotive would change ownership over the years until it was acquired by Great America Amusement Park of Gurnee, Illinois in 1980. It was then sold to Cedar Point in 1999, placed in storage for a decade before being sent to restoration at the Knott's Berry Farm in California. It was brought back to Cedar Point in 2013 and has been in operation since then as an excursion train.
CP & LE #4
Nicknamed 'George R.', #4 is a narrow-gauge steam locomotive with a wheel arrangement of 2-4-0. It was manufactured in 1942 by H.K. Porter Inc. for the Carbon Limestone Company of Hillsville, PA as a 38ft. narrow-gauge engine. In 1962, it was bought by the American Railroad Equipment Association and loaned to Cherokee Wonderland in Cherokee, NC before being sold to Cedar Point.
CP & LE #22
Nicknamed Myron H. after Mike "Myron" Hetrick, a superintendent of CP & LE Railroad, #22 is a narrow-gauge steam locomotive with a wheel arrangement of 0-4-0T. It was built by Vulcan Iron Works in 1922 and shortly sold to Wayne Coal Company of Claybank, OH. In 1927, it was sold to Birmingham Rail & Locomotive Products of Birmingham, AL. This locomotive would eventually be bought by Cedar Point in 1963.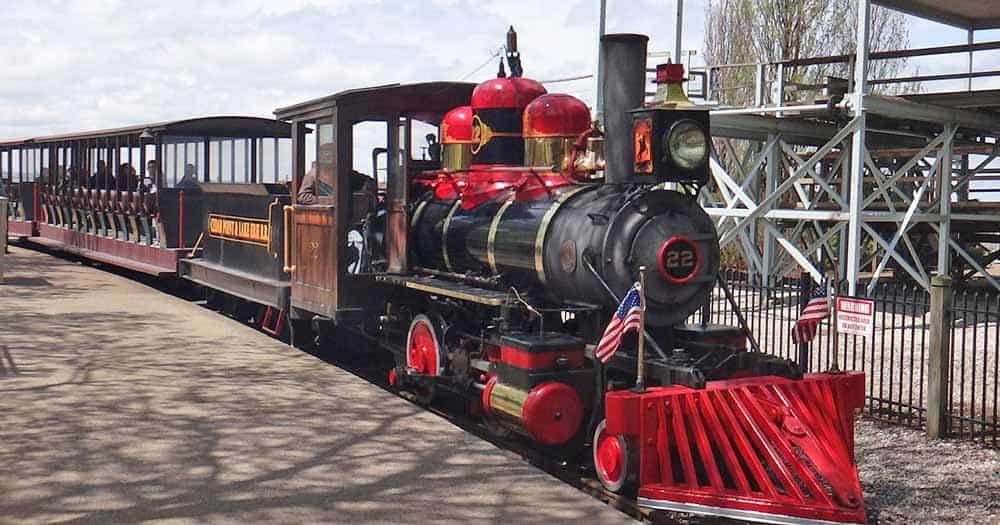 CP & LE #44
The fourth locomotive in the Cedar Point & Lake Erie Railroad, #44, is often considered the most popular of the ones operating. Nicknamed 'Judy K.' after the wife of Dick Kinzel, who was CEO of Cedar Point. Judy K. originally featured a 0-4-0T wheel arrangement and was built by Vulcan in 1923.
After operating for the Lehigh Stone Company in Illinois, she was owned by a private collector in Wisconsin. She would be purchased by Cedar Point in 1968 and operate for the next two decades. After a brief retirement in the late 1980s, #44 went through full restoration and returned to service in 1992.
Current Status of the Cedar Point & Lake Erie Railroad
The Cedar Point & Lake Erie Railroad operates in conjunction with the theme park in Sandusky, OH, so the trains do run seasonally. You can visit the Cedar Point Amusement Park website to learn more about the locomotives and plan your trip to see them up close.