Georgetown Loop Railroad #111, A Banana Hauler in Colorado
Located in Colorado's Rocky Mountains, the Georgetown Loop Railroad is a narrow-gauge heritage railroad. Passengers ride behind steam to amazing scenic views, including from 95 feet above the Clear Creek Gorge on the "High Bridge".
Part of the charm of the Georgetown Loop Railroad is that you can get up close with the restored steam-powered locomotives. The railroad rosters three steam locomotives, including Georgetown Loop Railroad #111.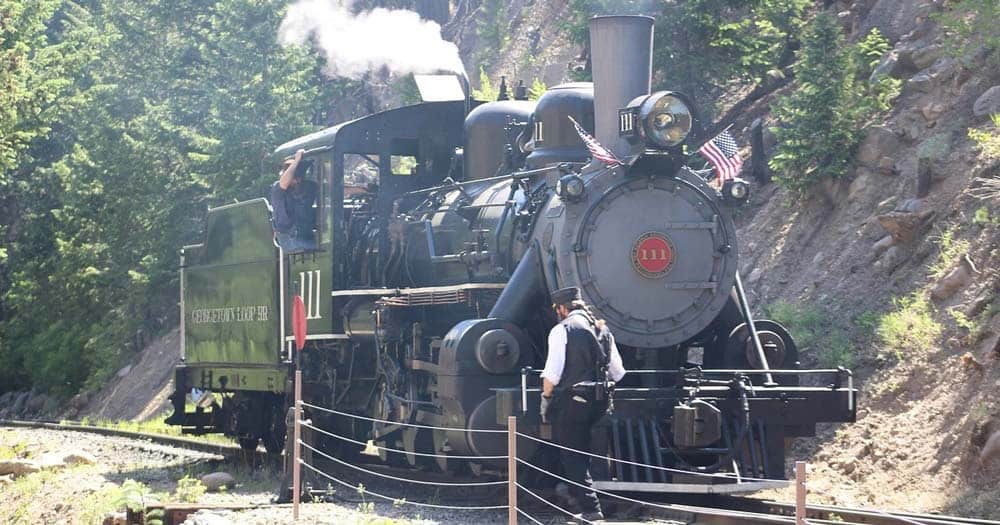 A History of Georgetown Loop Railroad #111
Built by Baldwin Locomotive Works in 1926, #111 was built for the International Railways of Central America in El Salvador. Designed with a wheel arrangement of 2-8-0, a wheel arrangement known as a Consolidation, she gave good service in Central America. In fact #111 served forty years in El Salvador, primarily hauling bananas to the coast before retiring in the mid-1960s.
IRCA, as the railway was known, was owned by the United Fruit Company of Boston. #111 had been built in the US, had US owners and so it was natural when retired that she made her way north.
Back to the United States
In the early 1970s #111 made it to Colorado, but not yet to the Georgetown Loop Railroad. She was sold to a startup tourist railroad north of Denver called the Sundown and Southern. That organization struggled for almost 30 years, and #111 never turned a wheel there. Sold to the Georgetown Loop Railroad, it was one of the first steam engines to pull a train there.
But…upheaval between the owners and operators saw #111 sold to the town of Breckinridge, Colorado where it was on static display from 2001 until 2010. With a new operator, the Georgetown Loop Railroad just couldn't that locomotive stay static. It was purchased to be restored and used again to haul passengers over the High Bridge.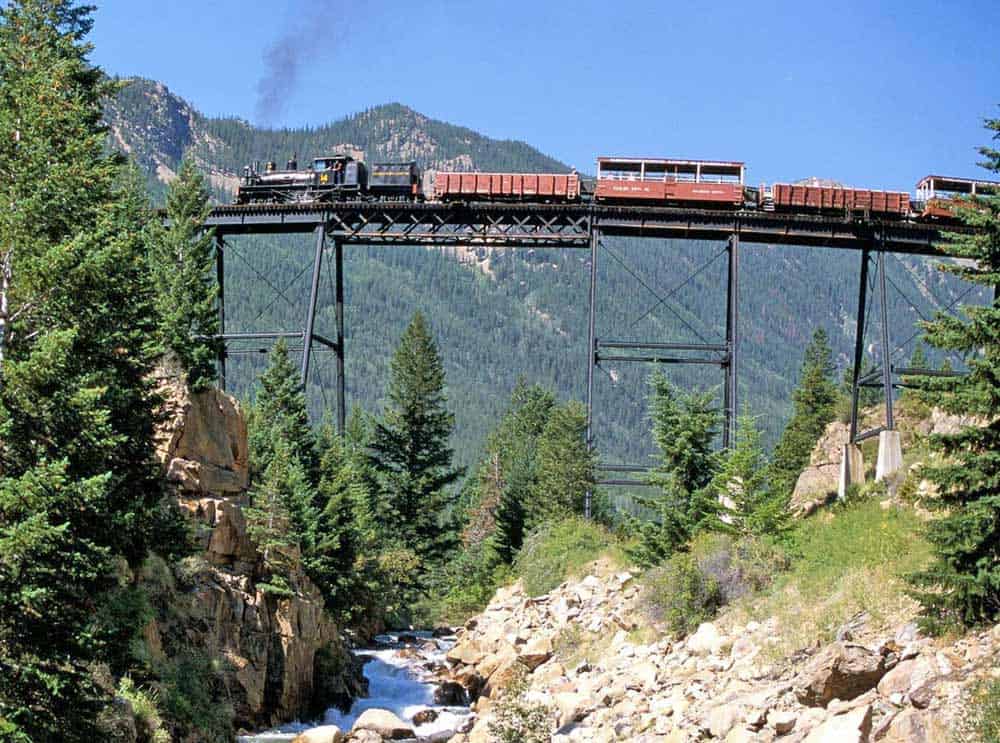 The Georgetown Loop Railroad is named so because this part of the original railroad (The Colorado Central Railroad) had to loop, like a horseshoe curve, over the Clear Creek Gorge and then back on itself as it traveled to the silver mines higher up in the mountain. The "High Bridge" above is at the apex of this loop.
And of course, this piece of railroad is near Georgetown, Colorado, so this part of the railroad, for a hundred years, has been known as the "famous Georgetown Loop". Of course the operator of a new tourist railroad would want to capitalize on that kind of 100 years of publicity!
Back to steam
In 2011, #111 completed her trip: Philadelphia to El Salvador to Hudson, Colorado to Georgetown to Breckenridge and back to Georgetown. New owners History Colorado, owners of Georgetown Loop Mining and Railroad Park, turned #111 over to Georgetown Loop Railroad operator Historic Rail Adventures which began restoration work. Following the extensive restoration, #111 entered excursion service in 2016.
Current Status
Today, #111 still operates various excursions for the Georgetown Loop Railroad. There are three steam locomotives on the roaster, and a diesel can be pulled out of the locomotive barn too, railroad operators say #111 is very with visitors. You can learn more about #111 and the Georgetown Loop Railroad by visiting their website.
Prior to working alongside #111 in Colorado, Georgetown Loop #40 also worked with her in Central America before the two went their separate ways for a few decades.
It's operations like the Georgetown Loop Railroad that keeps steam alive. With the profits from their tourist trains they are able to carry out extensive, five year restorations efforts, as they did with #111. It's a happy day when a steam locomotive can be dragged from a city park, restored and then put back on the track to steam for a new generation of steam fans!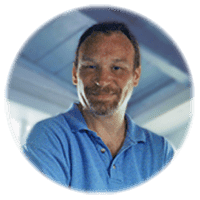 Railfan and model railroader. Writer and consumer of railroad news and information.