Red, White and Blue 4449, Patriotic Steam in the Pacific Northwest
Southern Pacific 4449 is one of the most famous steam locomotives in the country – and has been for nearly a half century. #4449 is now known as "The Daylight" for her history pulling "Daylight" passenger trains for the Southern Pacific Railroad in the 1940s and 1950s.
She's not always been dressed for the "Daylight" trains. In the last 50 years the public has seen her in several paint schemes and several times dressed in the colors of the flag. If it wasn't for a patriotic fervor we wouldn't have Southern Pacific Daylight 4449 in any color scheme. She'd still be sitting in a Portland city park.
1975/1976 American Freedom Train
She was restored in 1974 just to pull the second Freedom Train, this one marking America's bicentennial. (The first AFT had been 1945/1946.) Restoring 4449 was quite a task. She had been in Oaks Park for 16 years. The only maintenance was done by a railfan. Jack Holst kept 4449 lubricated…just in case.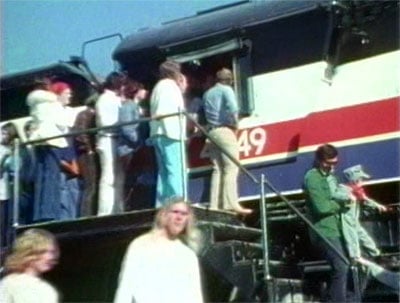 Well, "just in case" came knocking in 1974. Thanks in part to the tireless volunteer work of Jack Holst, 4449 was restored to superb operating condition in record time – less than six months.
Three steam locomotive were chosen to lead the 1975/1976 American Freedom Train: Reading #2101, Texas & Pacific #610 and Southern Pacific #4449. Of the three, 4449 was the only engine to carry a full patriotic paint scheme. Southern Pacific 4449 proved herself quite capable, pulling the special train thousands of miles across the nation.
After the newly restored 4449 helped pull the new American Freedom Train in 1975 and 1976, she was shuffled off to Portland for another retirement. It turns out that 4449 wouldn't retire so easily and in fact would appear in the red, white and blue again.
Back to Daylight colors
Throughout the 1980s and 1990s, SP 4449 proudly wore her Southern Pacific passenger paint scheme, a beautiful orange, red and black – her "Daylight" colors. She has pulled many a train in that color scheme. It's the colors Southern Pacific 4449 wears now.
But in 2002, inspired by a wave of patriotism following the terrorist attacks of September 11, 2001, 4449 went back to the red, white and blue. The steam locomotive is maintained by the "Friends of the 4449" and that's who made the decision to put her back in American Freedom Train Colors.
And back to Red, White & Blue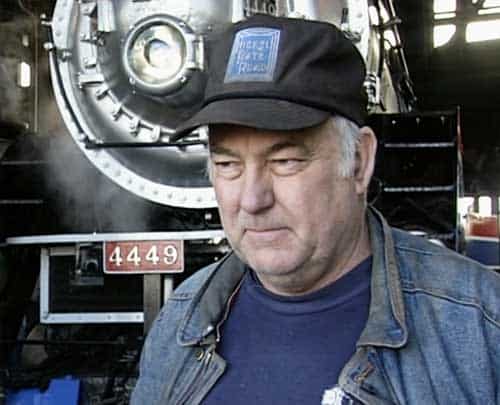 Doyle McCormick headed the original restoration team, and his team restored the patriotic paint scheme. In 2002 he said, "It's 27 years since the Freedom train ended, and with all that's going on in the country today, I thought it was appropriate." Besides, he said, "We can run it on any railroad now since it doesn't have any particular railroad name on the side."
Doyle has a special interest in 4449 in her American Freedom Train colors. At age 31 in 1975, Doyle was the engineer on 4449 as she led the AFT across the country.
The first train pulled by the newly patriotic, re-painted 4449 was informally called the "Daylight Freedom Special" and ran from Portland to Bend, Oregon – out and back along the Columbia River, including through the spectacular Columbia River Gorge.
4449 continued to pull excursion trains in her patristic paint for the next couple of years, eventually returning to the classic "Daylight" paint scheme. Other than some downtime for a mechanical restoration and refitting between 2013 and 2015, the Daylight has been up and running continuously, showing new generations what steam power can do.
You can see 4449 in Portland
When she isn't running, #4449 can be found at the Oregon Rail Heritage Center's shop in Portland. You can visit the ORHC shop in person. Find out how to do that and about any upcoming excursions by heading over to the Oregon Rail Heritage Center website.
And of course, you can always look up the next excursion…and buy a ticket. 🙂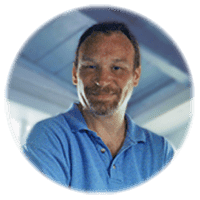 Railfan and model railroader. Writer and consumer of railroad news and information.