Another #6 at Cass Scenic Railroad
Cass Scenic Railroad rosters two locomotives numbered "6". Both are "geared" locomotives. But other than that, the two are quite different. The most famous of the two is Western Maryland #6, known as "Big 6". Cass Scenic #6, not known for speed, will often head up the ironically named "Durbin Rocket".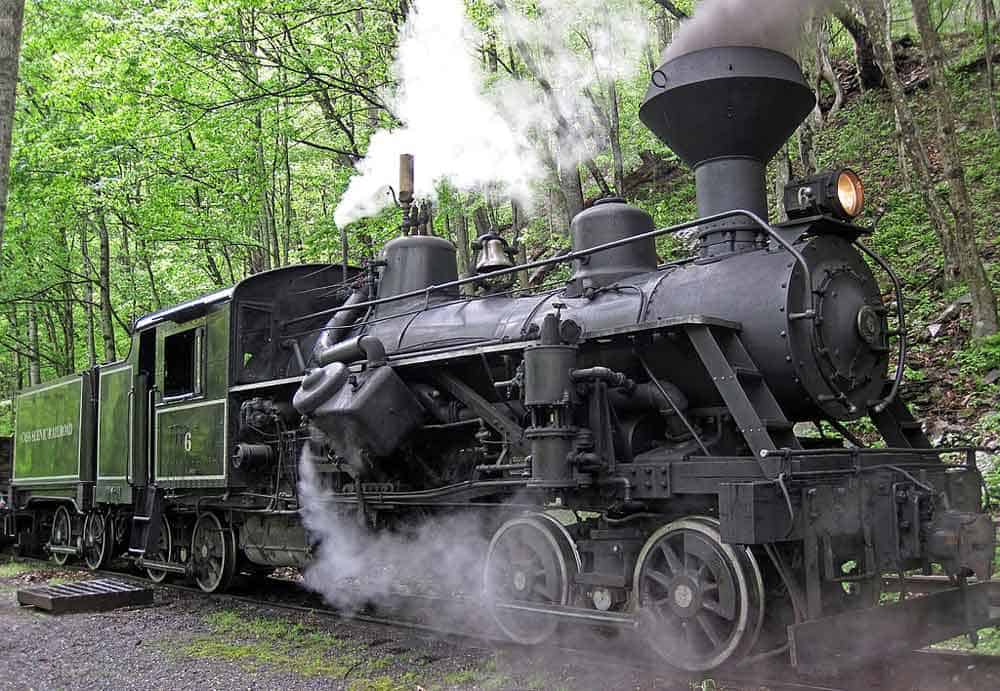 What is a geared locomotive? Specifically a Heisler?
Cass Scenic Railroad #6 is a Heisler, built by the Heisler Locomotive Works. Like it's 'cousin', Western Maryland #6, on the railroad, #6 is a geared locomotive, but of a much different design. Geared locomotives were most often used where the track was steep or crooked, or poorly laid, possibly in a lumbering area.
The pistons on a geared steam locomotive don't turn all the machinery directly as they would on a conventional rod-type steam locomotive. Instead they rotate a crankshaft that powers a driveshaft through a set of reduction gears. Unlike on a conventional locomotive, each truck (set of wheels) swivels independently.
What all this means is, all the power and all the weight goes directly to some very nimble trucks. These geared locomotives were much slower than their conventional rod-driven counterparts, but were perfectly suited to their dangerous duty in odd places.
Specifically a Heisler doesn't let 'it all hang out' like a Shay does. In a Heisler (and a Climax geared locomotive too) some of the workings and gears are under the boiler, but you can see a piston, one on each side, at a 45 degree angle that goes straight to the crankshaft.
With two geared locomotives numbered "6" on the roster, and both in use, crews at Cass Scenic Railroad came up with a plan to avoid confusion. The locomotives are referred to by their builder: This is referred to as "Heisler 6" with Western Maryland #6 referred to as "Shay 6".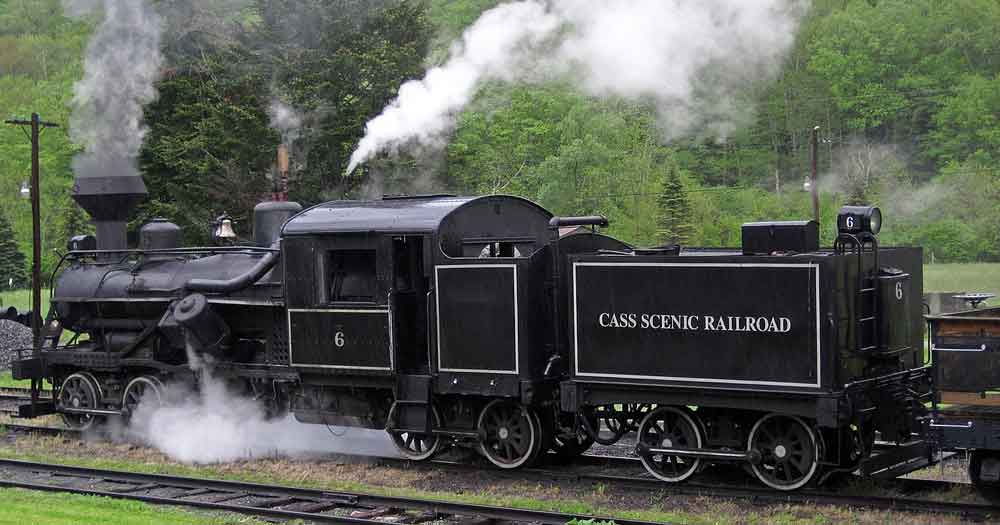 There were three popular types of geared locomotives in the Americas, all produced in the United States: The Shay, the Heisler and the Climax. Cass Scenic Railroad has examples of all three.
Brief History of Cass Scenic #6
Today, out of nearly a thousand built, only about 30 Heislers survive. Even fewer still operate. Let's see how we got lucky and have Cass Scenic #6, continue to steam through West Virginia – much to the delight of railfans.
Cass Scenic #6 was built by at Heisler Locomotive Works shops in Pennsylvania in 1929 for Bostonia Coal and Clay Products. The coal burning locomotive is of the 'three-truck' variety and weighs in at approximately 180,000 pounds. That's pretty heft for a Heisler.
The locomotive served Bostonia for nearly a decade before being acquired by the Meadow River Lumber (MRL) Company in 1939. She would receive a new smokestack and feedwater heater system over the next couple of years to maximize her output. MRL used the locomotive to transfer timber and lumber from the forest to the sawmill and mainline.
Retired? Not quite!
Putting in nearly another 20 years, the locomotive was the last geared steam locomotive used by MRL, but dieselization led to her retirement in 1957. Meadow River Lumber is located in Rainelle, West Virginia. Hmmm, how convenient for her next career! Rainelle is about a two hour trip, by railroad, to Cass, West Virginia.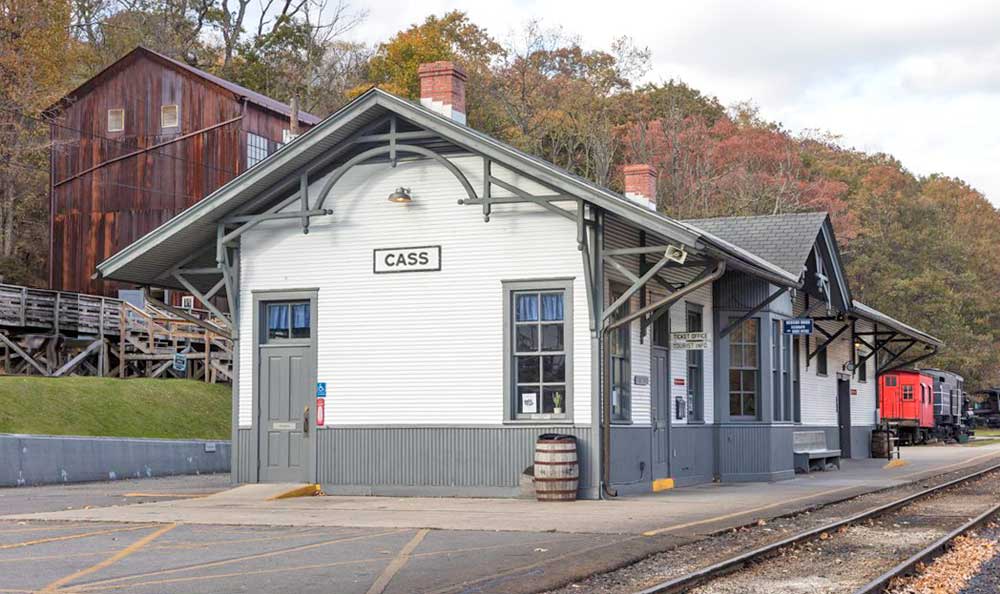 About a decade after retirement, in 1966, the locomotive was transferred to the Cass Scenic Railroad – making the journey under her own power. Her excursion debut came just two years later. She then ran the full 1969 excursion season. "Heisler 6" continued to wow visitors and crew alike until 1995 when a boiler issue sidelined her, but after that was taken care of, she returned to the rails in 2005.
By the way, the Meadow River Lumber Company has been good for railfans. It was not quite the easy-peasy route #6 here took, but MRL #1, a two truck Shay is now at the Steamtown National Historic Site. MRL #1 was heavily damaged in a snowfall in Vermont, but that is clearly a story for another time.
Lumbering and railroad activities ended in 1960 and scrapping of the line began. Local leaders surveyed the scene, thought about the lost jobs and what could be and decided to take a chance. They knew what they had – it was like 'time in a bottle' so little had changed around Cass, and with locomotives ready to go, they urged the state to take action. The West Virginia legislature listened, and so the State stepped in.
Current Status
The State of West Virginia has owned the Cass Scenic Railroad since 1963 – and the entire historic "company town" of Cass since 1977. You can learn more about the history of the Cass Scenic Railroad State Park at their website.
The railroad itself dates back to 1901 when immigrants began to haul timber out of the thick forests on Back Allegheny Mountain. Those immigrants were the Scottish Luke family that would found what would become the giant West Virginia Pulp & Paper Company (much later, Westvaco). WVP&P came to own around 100,000 acres of land in the area, the railroad, the sawmill, and the town.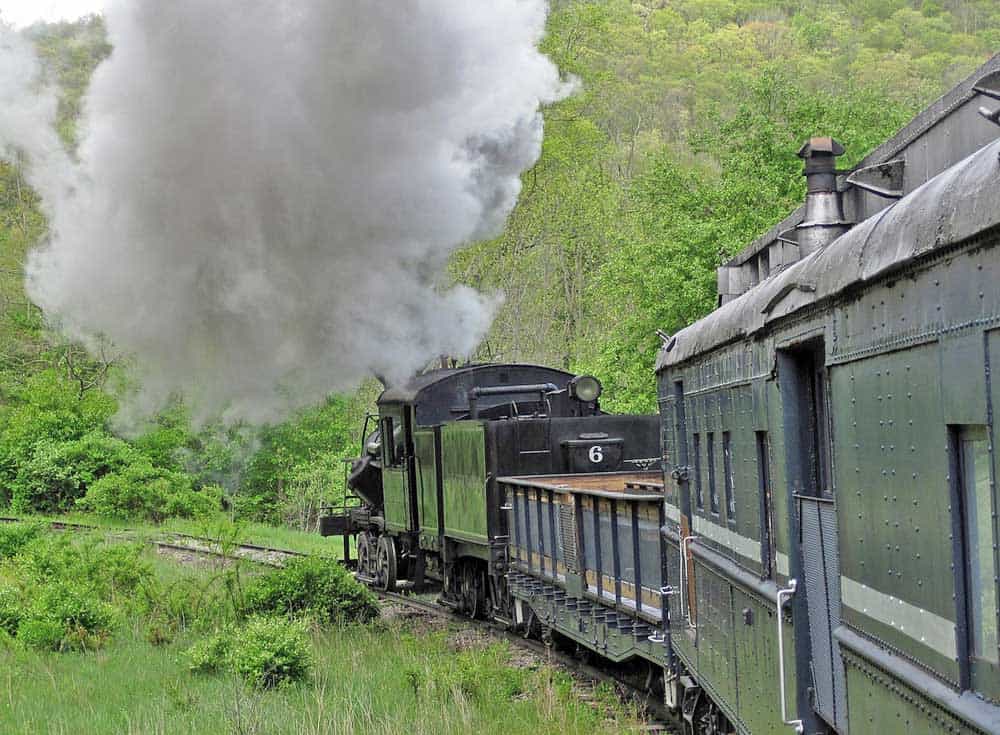 To get the low down on all the Cass Scenic Railroad locomotives try Mountain Rail West Virginia. In 2015 the State entered into an agreement with the Durbin & Greenbrier Valley Railroad to operate the Cass Scenic Railroad. The Mountain Rail website is their website.
Thanks to the locomotive's power and excellent condition (at age 90+!), the railroad uses Cass Scenic #6 to lead its popular "Durbin Rocket" excursion. Both the Durbin & Greenbrier Valley and the Cass Scenic Railroad operates seasonally from May through October. To learn more about the schedule for the Durbin Rocket see the Durbin Rocket's website.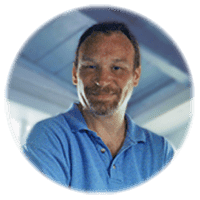 Railfan and model railroader. Writer and consumer of railroad news and information.