Christmas Trains in (almost) Every State!
Many railfans will tell you that their love for trains can be traced back to memories as a child, especially around the holidays. From a model train surrounding a Christmas tree to taking a Christmas train excursion with Santa, the beauty of the trains coupled with the 'magic' of the holiday season makes it easy for kids to develop these fond memories.
The continued success of The Polar Express film only affirms the connection between Christmas and trains. Today there are railroad operators and museums in nearly every state that host special events to continue the tradition of the Christmas Train, some of which have taken on official licensing of The Polar Express.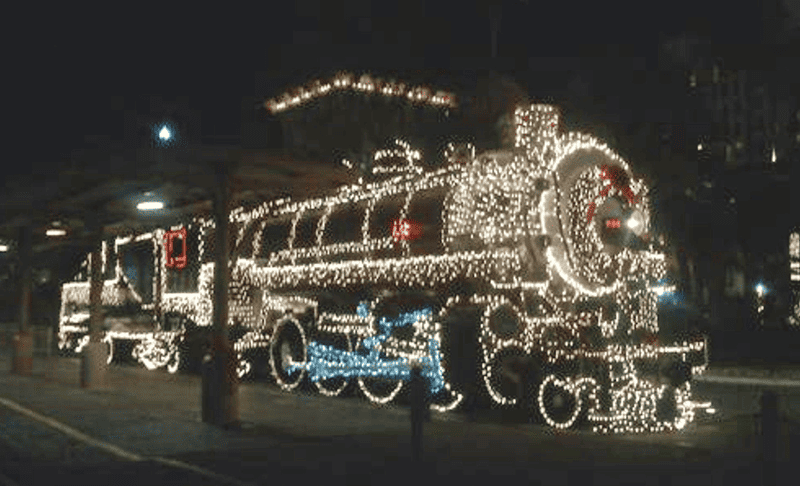 If you have been thinking about including a Christmas train trip in your holiday plans, but weren't sure where to go, we have you covered. Below we have a list of holiday trains operating throughout the country. While we tried to find one for every state, some states did not appear to have offerings at the time of writing. Hopefully, if you are in one of those unfortunate states, this list will provide another one nearby. Except Hawaii. Sorry Hawaii.
Enjoy the sights and sounds of holiday rail excursions any time you want with Pentrex's Christmas Trains DVD.
Christmas Trains By State
Note: While we here at SteamGiants tend to prefer to steam locomotives, we appreciate that the holidays are special so we have included several options that might utilize diesel locomotives for their Christmas train events.
Alabama – Connecticut
Alabama
Heart of Dixie Railroad Museum
Calera, AL
Phone: (205) 668-3435
North Alabama Railroad Museum
Huntsville, AL
Phone: (256) 851-6276
Alaska
Alaska Railroad
Multiple Locations, AL
Phone: (907) 265-2494
Arizona
Verde Canyon Railroad
Clarkdale, AZ
Phone: (800) 582-7245
Grand Canyon Railway
Williams, AZ
Phone: (888) 848-3511
Arkansas
Arkansas & Missouri Railroad
Springdale, AK
Phone: (479) 725-4017
California
Niles Canyon Railway
Niles, CA
Phone: (510) 996-8420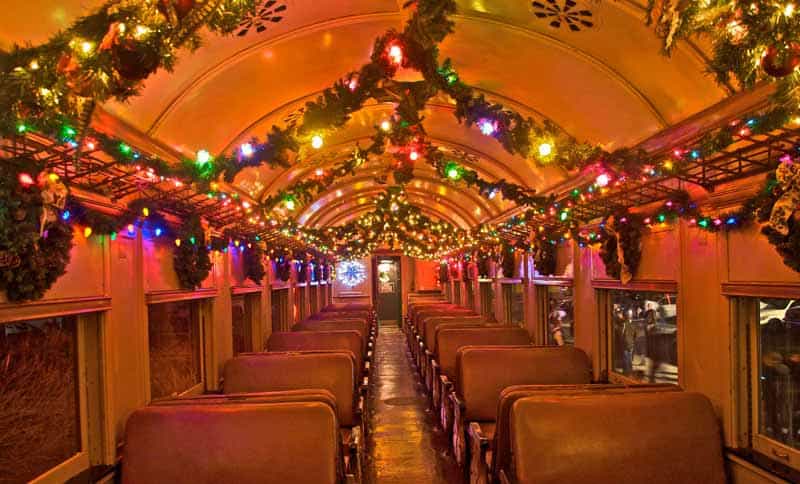 California State Railroad Museum
Sacramento, CA
Phone: (916) 323-9280

Colorado
Durango & Silverton Narrow Gauge
Durango, CO
Phone: (877) 872-4607

Georgetown Loop Railroad
Georgetown, CO
Phone: (888) 456-6777
Connecticut
Railroad Museum of New England
Thomaston, CT
Phone: (860) 283-7245
Delaware – Iowa
Delaware
Wilmington & Western Railroad
Wilmington, DE
Phone: (302) 998-1930
Florida
Florida Railroad Museum
Parrish, FL
Phone: (941) 776-0906
Georgia
Georgia Coastal Railway
Kingsland, GA
(904) 370-3744

Hawaii
TBD- Unfortunately, it does not appear Hawaii has a holiday train active in 2022.
Idaho
TBD- Unfortunately, it does not appear Idaho has a holiday train active in 2022.

Illinois
Illinois RR Museum
Union, IL
Phone: (815) 923-4000
Indiana
Nickel Plate Express
Noblesville, IN

Iowa
Boone & Scenic Railroad
Boone, IA
Phone: (515) 432-4249
Kansas – Montana
Kansas
Midland Railroad
Baldwin City, KS
Kentucky
Kentucky Railway Museum
New Haven, KY
Phone: (800) 272-0152
Louisiana
Unfortunately it does not appear that Louisiana will have Christmas train excursions; but don't worry, Kansas City Southern's Holiday Express will make stops in the state.
Maine
Maine Narrow Gauge Railroad & Museum
Portland ME
Phone: (207) 828-0814
Maryland
Western Maryland Scenic Railroad
Cumberland, MD
Phone: (301) 759-4400
Massachusetts
Cape Cod Central Railroad
Buzzards Bay, MA
Phone: (888) 797-7245
Michigan
Huckleberry Railroad
Flint, MI
Minnesota
Friends of 261
St. Paul, MN
Mississippi
TBD- Unfortunately, it does not appear that Mississippi has a Christmas train active in 2022; but don't worry, Kansas City Southern's Holiday Express will make stops in the state.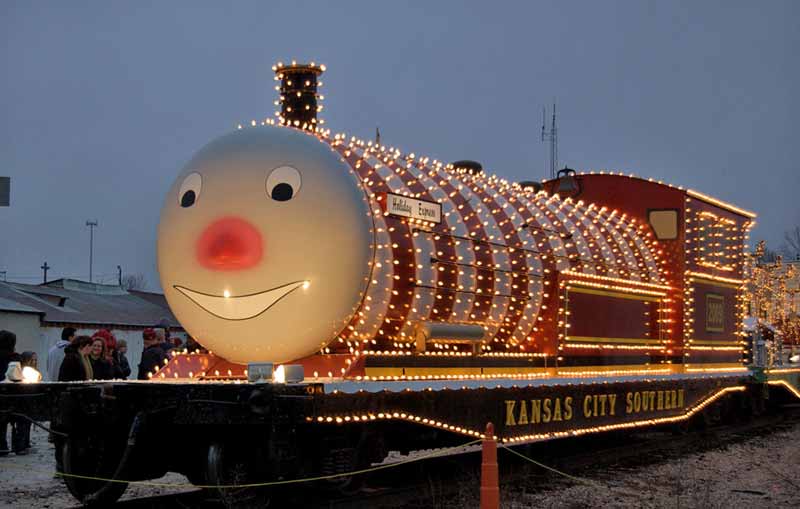 Missouri
Branson Scenic Railroad
Branson, MO
Phone: (417) 334-6110

Montana
Charlie Russell Chew Choo
Lewistown, MT
Phone: (406) 535-5436
Nebraska – North Dakota
Nebraska
TBD- Unfortunately, it does not appear Mississippi has a holiday train active in 2022.
Nevada
Nevada Northern Railway
Ely, NV
(775) 289-2085
New Hampshire
Conway Scenic Railroad
North Conway, NH
Phone: (603) 356-5251
New Jersey
Morristown & Erie Railway
Whippany, NJ
New Mexico
Sky Railway
Santa Fe, NM
Phone: (844) 743-3759
New York
Catskill Mountain Railroad
Kingston, NY
Phone: (845) 332-4854
North Carolina
Great Smoky Mountain Railroad
Bryson City, NC
Phone: (800) 872-4681
North Dakota
TBD- Unfortunately, it does not appear Mississippi has a holiday train active in 2022.
Ohio – Tennessee
Ohio
Hocking Valley Scenic Railway
Nelsonville, OH
Phone: (740) 753-9531
Oklahoma
Oklahoma Railroad Museum
Oklahoma City, OK
Oregon
Oregon Rail Heritage
Portland, OR
Phone: (503) 233-1156
Pennsylvania 
Strasburg Rail Road
Strasburg, PA
Phone: (866) 725-9666
* Note, Strasburg 475, which was recently in an accident, is back for Strasburg's holiday tradition.
Rhode Island
Blackstone Valley
Woonsocket, RI
Phone: (401) 495-1213
South Carolina
South Carolina Railroad Museum
Winsboro, SC
Phone: (803) 635.9893
South Dakota
Black Hills Central
Hill City, SD
Phone: (605) 574.2222
Tennessee
Tennessee Valley Railroad
Delano, TN
Phone: (423) 894-8028
Texas – Wyoming
Texas
Texas State Railroad
Palestine, TX
Phone: (855) 632-7729
Utah
Herber Valley Railroad
Herber City, UT
Phone: (435) 654-5601

Vermont
Green Mountain Railroad
White River Junction, VT
Virginia
Virginia Rails Express
Alexandria VA
Phone: (800) 743-3873
Washington
Chehalis-Centralia Railroad & Museum
Chehalis, WA
(360) 748-9593

West Virginia
Durbin & Greenbrier Railroad
Elkins, WV
Phone (304) 636-9477
Wisconsin
National Railroad Museum
Green Bay, WI
Phone: (920) 437-7623
Wyoming
TBD- Unfortunately, it does not appear Wyoming has an active Christmas train operating in 2022.